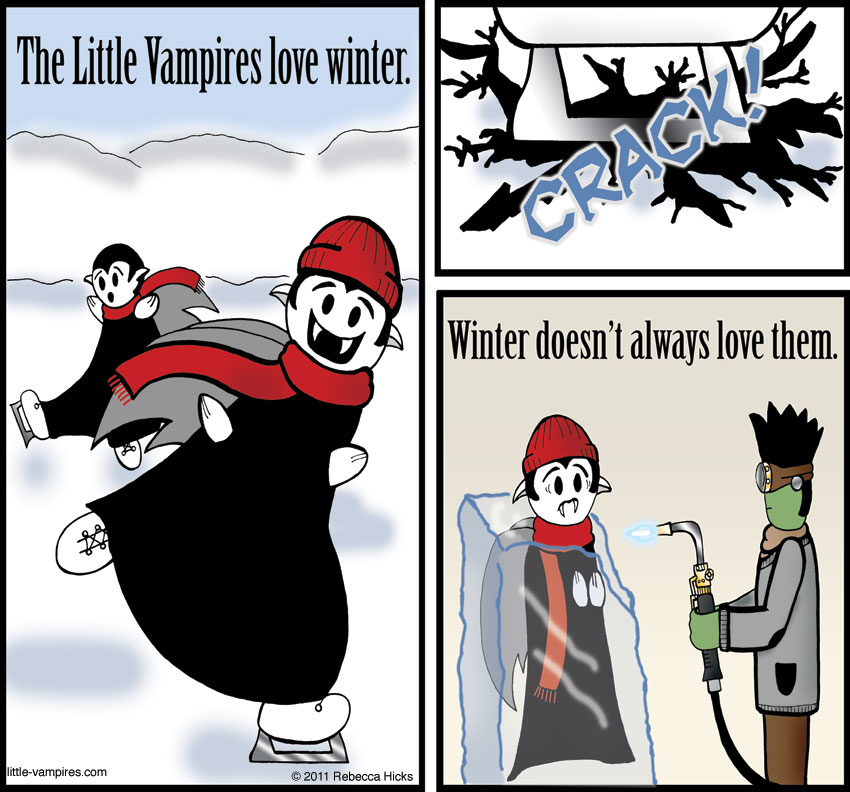 Appearances
CONVENTIONS
Sep

10‑12

2021

Rose City Comic Con

Oregon Convention Center | Portland, OR

Oct

1‑3

2021

MileHiCon

Denver Marriott Tech Center | Denver, CO

Nov

26‑28

2021

San Diego Comic-Con Special Edition

San Diego Convention Center | San Diego, CA

Dec

2‑5

2021

Emerald City Comic Con

Washington State Convention Center | Seattle, WA
New Year, new website design, new website content, new update schedule, new convention!
Be sure to check out and contribute to our new character pages. I've got FAQs for the Little Vampires and Wolfie, and Frank, Elsa, Mumsy and the Zombies will follow. Leave a comment, send me an e-mail, or tell me on Twitter what you would like to know about your favorite little monsters. Follow James and I on Twitter to get the latest updates!
The new posting schedule is a reflection of my new approach to writing Little Vampires. I'll be creating story arcs, with the first one beginning today. The Winter Fun storyline will continue … on Monday. Oh yeah, you heard me. It is well past time for me to honor your support by giving you more Little Vampires! The new update schedule will be Monday and Wednesday.
We've added a new convention to the schedule! We will be exhibiting at Bak-Anime in Bakersfield, California on Sunday, January 23rd. Check out our appearance calendar to see if we're coming to your town this year.