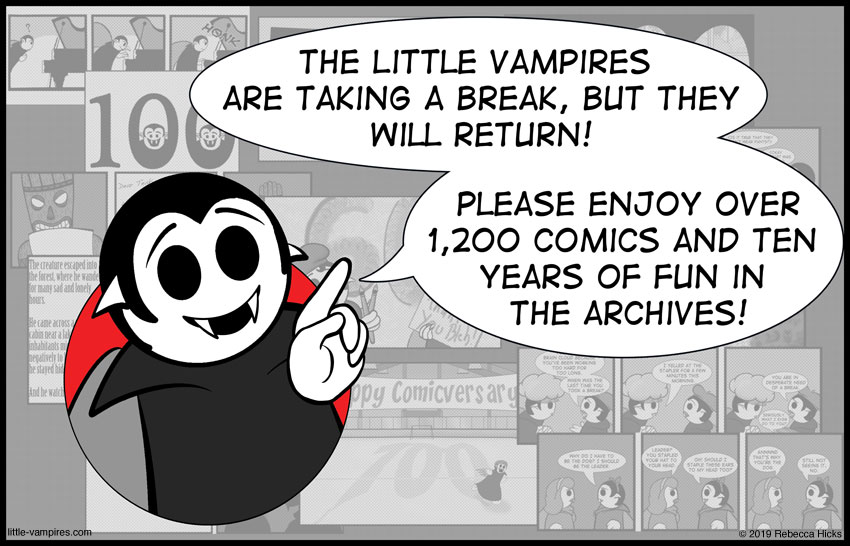 Appearances
CONVENTIONS
Oct

1‑3

2021

MileHiCon

Denver Marriott Tech Center | Denver, CO

Nov

26‑28

2021

San Diego Comic-Con Special Edition

San Diego Convention Center | San Diego, CA

Dec

2‑5

2021

Emerald City Comic Con

Washington State Convention Center | Seattle, WA
After almost ten years and 1,200 strips, I am taking a break from creating the Little Vampires comics. I'm not taking a break from creating, though! I'm just taking some time to focus my creative energies elsewhere for a spell.
There are still so many stories I want to tell about the Little Vampires and their friends. There are new monsters to introduce, old friends to develop further, and new corners of the little monster world to explore. But the last few years of my life have been a roller coaster of exhausting events, and I've not had the time to improve my art skills in the way that I'd like. I can write the stories I want to tell, but I can't yet draw them. I need to take a break to get to where I can draw them.
I also need this time to focus on other projects. There are prints I want to draw, pins and shirts I want to design, and books I want to create. I also need to focus on evolving my business. My focus has been on selling my work at conventions, but conventions have changed. And they haven't all changed for the better for independent artist bank accounts. So I need to focus more on growing my online sales. I also need this time to focus on improving my health. An independent arts career can take a toll on a body, and my body ain't getting any younger.
So how long will the comic be on hiatus? It will be at least three months, likely more. With summer convention obligations, I won't be able to even think about beginning serious professional development until the end of July. How will you know when the comic is coming back?
The comic will be gone, but I will still be very active on social media. In fact, I want to share my development process with you, and get your opinions about the direction I'm taking these little monsters. So if you don't already, follow me on social media! Share your life, ask questions, keep in touch!
These Twitter and Facebook feeds are where you'll find a mix of the personal and professional. This is where I post about everything I'm working on. You'll also find lots of links to the work of my wonderfully talented friends.
Little Vampires Facebook and Little Vampires Tumblr
This Facebook group and Tumblr page are where I'll be posting Little Vampires specific things like character development sketches.
This is where you'll find posts about all of my creative projects, along with some stories about the independent artist life.
My Instagram is where I post photos of my creative projects, and also lots and lots of pictures of the woods near my house. Follow me if you love pictures of trees and chonky squirrel units.
So many of you have told me how much the comic makes you laugh in dark times. Which is why taking this break is so hard. But so many of you have also taught me how important it is to take care of myself. And I've needed this break. Remember the storyline with the brain cloud? Yeah. That Little Vampire is me.
So thank you. Thank you for your understanding. And know that I'm still here, and I will find other ways to make you laugh in dark times. But I need to wander some paths I've been ignoring for too long. I hope you take the journey with me.