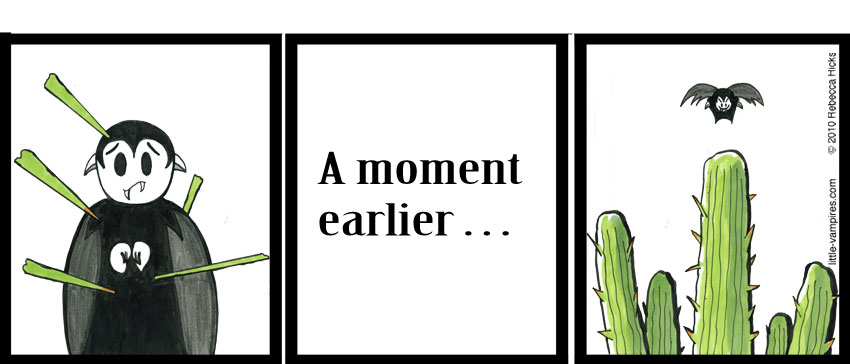 Appearances
CONVENTIONS
Sep

10‑12

2021

Rose City Comic Con

Oregon Convention Center | Portland, OR

Oct

1‑3

2021

MileHiCon

Denver Marriott Tech Center | Denver, CO

Nov

26‑28

2021

San Diego Comic-Con Special Edition

San Diego Convention Center | San Diego, CA

Dec

2‑5

2021

Emerald City Comic Con

Washington State Convention Center | Seattle, WA
We are headed to Arizona this weekend for the Phoenix Comicon. We had a blast at last year's show, and this year will be triply awesome. One, because we'll get to see our AZ fans again. Two, because we'll get to see our AZ friends again, like Daniel Davis of Monster Commute. And three, because we're sharing the booth with our friend Alina Pete of Weregeek fame. Booth 306 will be a rockin' with monstrous geekatude. Be there, or you will lose geek points!
So this week's strip shows what the Little Vampires will be up to while we're working at the convention. I normally color the strip using Photoshop, but I got some shiny new markers that I was dying to try out. It was nice to take a simpler approach to coloring (I usually agonize over every pixel). Let me know what you think!
Thanks to everyone that bid on my sketch cards at the Comics for Cures eBay auction. I was afraid that I would only be contributing a minimum to the cause, being an unknown artist and all, but you guys told my fear to STFU. So thank you from the bottom of my heart. And remember to e-mail me a sketch request if you are one of the lucky bid winners!
Last but not least, wishes for a fun Memorial Day weekend to my fellow Americans. But please remember to take some time to honor those who have fallen in the service of our country.