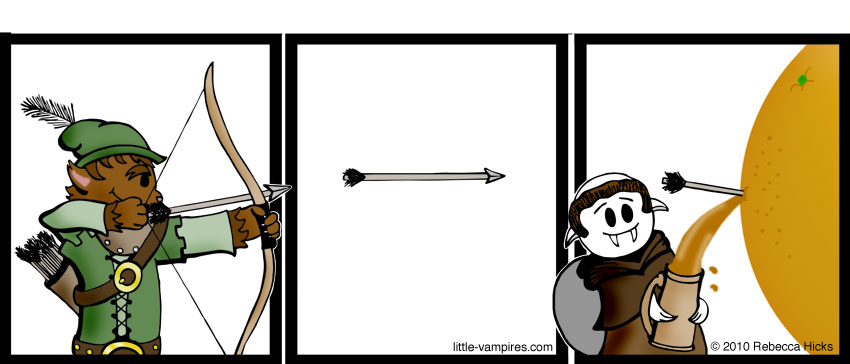 Appearances
CONVENTIONS
Sep

10‑12

2021

Rose City Comic Con

Oregon Convention Center | Portland, OR

Oct

1‑3

2021

MileHiCon

Denver Marriott Tech Center | Denver, CO

Nov

26‑28

2021

San Diego Comic-Con Special Edition

San Diego Convention Center | San Diego, CA

Dec

2‑5

2021

Emerald City Comic Con

Washington State Convention Center | Seattle, WA
Wolfie Hood robs the rich of their blood orange juice and gives to the poor.
I have no beef with Russel Crowe and Kevin Costner and their take on the legend of Robin of Locksley. But the swashbuckling Errol Flynn will always be THE Robin Hood for me. Look him up, kids. 🙂
Thanks to everyone that stopped by our table at LepreCon 36 this past weekend! This includes the pirates who transformed into Klingon beach goers and then into pirates again, the Arizona Browncoats and their dinosaurs, and the fabulous Ravyn who knows the secret paths of Teh Internets. Major love to Margaret and Phil for gifting me with a book signed by artist Charles Vess, who I had the nervous pleasure of meeting. Charles Vess is confident and gracious and laughs like a breeze in a forest. I was very happy that I was able to talk with him without throwing up on his shoes.
Tell Cancer To Suck It!
You can fight cancer AND own a piece of original art by bidding at my Comics2Games site on eBay. I drew four cards to support the Comics for Cures Sketch Card Benefit Auction. All proceeds support the American Cancer Society's Relay for Life.
The eBay auction only lasts three more days!! So tell cancer to suck it, and get some one-of-a-kind hand-drawn art for doing so. What a deal! I wish I got art when I told people to suck it. Never works out that way.
As an added bonus, if you are the lucky bid winner of one or more of the cards, send me an e-mail, and I will draw and color the subject of your choosing on a loverly piece of Bristol and send it to you for free! But no bonus unless you bid! So bid! Bid like the wind!!!!