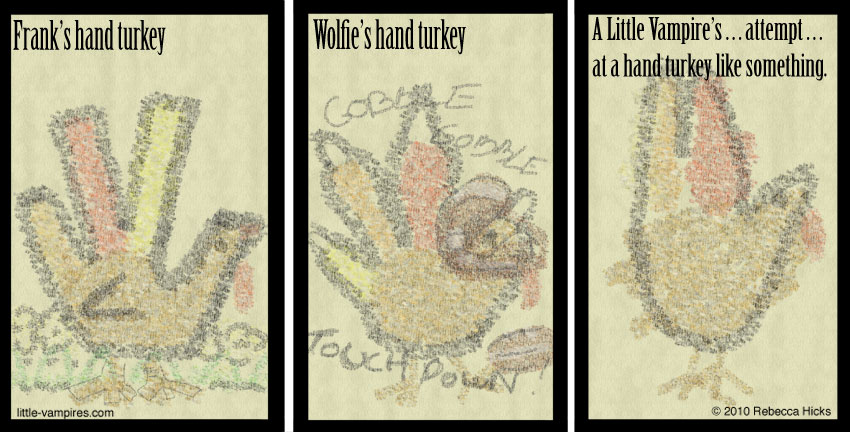 Appearances
CONVENTIONS
Sep

10‑12

2021

Rose City Comic Con

Oregon Convention Center | Portland, OR

Oct

1‑3

2021

MileHiCon

Denver Marriott Tech Center | Denver, CO

Nov

26‑28

2021

San Diego Comic-Con Special Edition

San Diego Convention Center | San Diego, CA

Dec

2‑5

2021

Emerald City Comic Con

Washington State Convention Center | Seattle, WA
You can keep your Halloween pumpkin carvings and Christmas lights. It's all about the Thanksgiving hand turkey. Even the least adept artist in the world can bang out a priceless piece of Thanksgiving art just by tracing their hand and applying some fall colors in crayon. Even if they don't have quite the same number and type of fingers that we do.
Happy Thanksgiving to all my fellow Americans! The Little Vampires are thankful for all their fans and for blood oranges. Frank is thankful for all his fans and friends and flowers. And Wolfie is thankful for his fans and for Thanksgiving football games. James and I are thankful that we get a break from conventions for the rest of this year. We have enjoyed every show we've exhibited at, and love getting to spend time, however short, with all of you wonderful crazy people. But it's good to be home for a bit.
Thanksgiving gives way to the Christmas holiday season, and I'll be sending my annual Christmas card to all friends and fans who request it. If you would like to receive a Little Vampire holiday card, simply send me an e-mail with your mailing address at rhicks@lunasea-studios.com. Even if you signed up for a card last year, e-mail me again. I don't keep your snail mail addresses because that would be wrong. And kind of creepy.