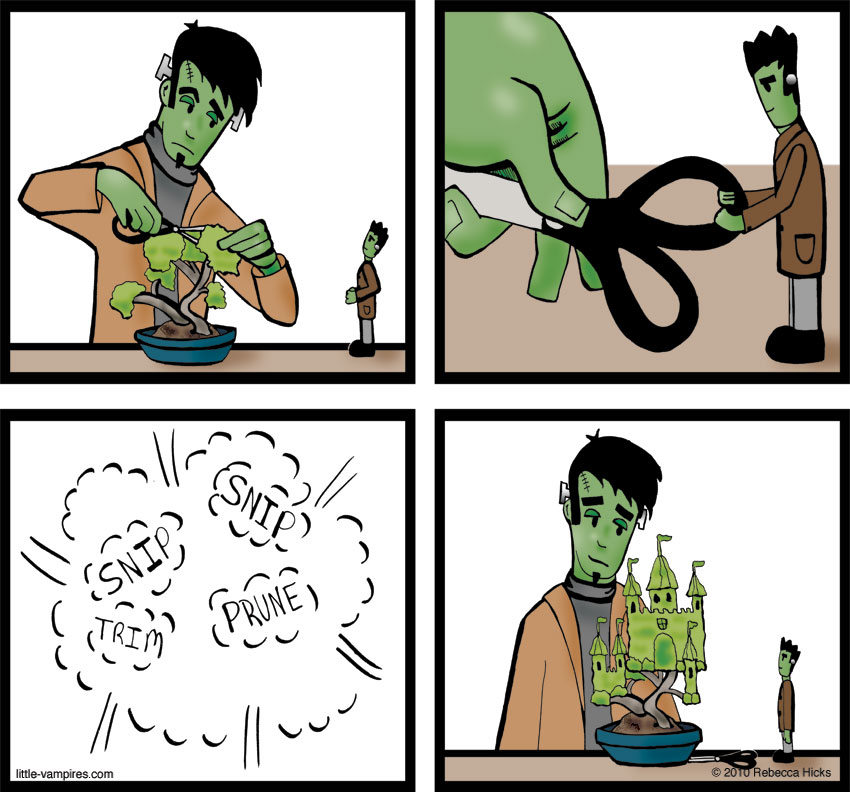 Appearances
CONVENTIONS
Sep

10‑12

2021

Rose City Comic Con

Oregon Convention Center | Portland, OR

Oct

1‑3

2021

MileHiCon

Denver Marriott Tech Center | Denver, CO

Nov

26‑28

2021

San Diego Comic-Con Special Edition

San Diego Convention Center | San Diego, CA

Dec

2‑5

2021

Emerald City Comic Con

Washington State Convention Center | Seattle, WA
A typical day for Frankenstein's Monster involves teaching Romantic Poetry at the local college, talking over daddy issues with his therapist, and being chased by people with torches and pitchforks. So when he wants to unwind and relax, he works in his flower garden or shapes his bonsai tree. When Frank pays a visit, though, he hands over the pruning shears to his tiny cousin.
Bakersfield Comic-Con was a blast yet again. Thanks for all the love, my B-field peeps! Special thanks for coming to my panel with fellow self-publisher Stephanie Lesniak, creator of Blazin' Brandy.
Next up is the Qualcomm Art Fair, then Designer Con in Pasadena. Los Angeles area fans, come visit us at booth 220 this Saturday!