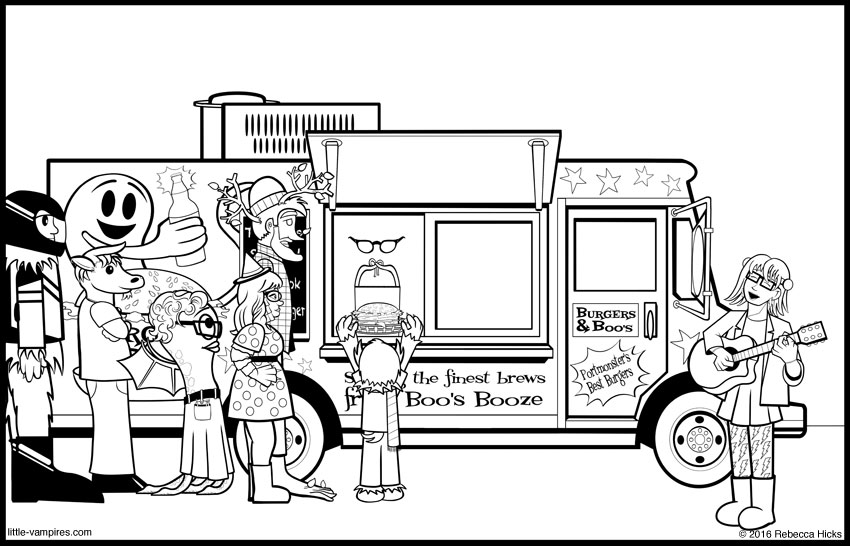 Appearances
CONVENTIONS
Sep

10‑12

2021

Rose City Comic Con

Oregon Convention Center | Portland, OR

Oct

1‑3

2021

MileHiCon

Denver Marriott Tech Center | Denver, CO

Nov

26‑28

2021

San Diego Comic-Con Special Edition

San Diego Convention Center | San Diego, CA

Dec

2‑5

2021

Emerald City Comic Con

Washington State Convention Center | Seattle, WA
Meet two more residents of Portmonster! Lucia is a gill monster who can play mandolin both on land and underwater. She also writes and perform comedy sketches, can speak to squirrels, and is a witch with a magic wand that allows her to find any cannoli within a five block radius. Her bestie Kyle is a tree monster and lumberjack, and he's okay. He plays guitar and sings songs in Old Entish, and can school anyone in matters of history and politics while simultaneously beating them in Settlers of Catan. These monsters are inspired by my talented friends Lucia Fasano and Kyle McCormick, and they are not drawn to scale. Lucia just released an amazing new album which you can get HERE.
Wells is the co-owner of the Burgers & Boo's food truck. Her brother, Griffin, the barista at Café de l'Ennui in Monsterdell, is not exaggerating when he says she makes the best burgers in Portmonster.
The eager young werewolf receiving his Tillaspook Cheeseburger is Liam, who lives with his family in the Portmonster suburb of Hillsbarrowwight. Liam's family enjoys taking the MERMAX light rail into downtown Portmonster to cheer on Liam's favorite soccer team, the Timberwerewolves. Liam is the proud owner of fifteen-and-a-half Timberwerewolves scarves, and the largest toy sword collection in the Portmonster area.
There is a large population of Sasquatch in Portmonster, and they need real estate agents to help them find the finest forest housing. That's where Mason comes in. The lead seller for Full Sasquatch Realty, Mason spends his work hours helping all monsters with finding a place to call home, and his off hours riding his motorcycle and belting out Neil Diamond songs at local karaoke bars. Mason is inspired by the actual real estate agent that helped us find our home in the Portland area. Thanks Mason! We really love it here.
Adrian is minotaur who loves Wells's It's All Feta To Me Cheeseburger. Adrian makes some of the finest monster jewelry in Portmonster, and holds the Monster World Record for most Mountain Dew consumed in one day. This monster is inspired by my friend Adrian, who makes the finest geek jewelry as part of Optimystical Studios.
Jennie, a batopus, is one of Well's regular customers. Jennie works part-time as a cartoonist, and part-time as a Utilikilt sales rep. Jennie the monster is inspired by my friend Jennie Breeden, who really is a cartoonist and can totally rock a Utilikilt. You can read her comic HERE.
Frankengela is a reanimated singer-songwriter that writes and performs songs about science, mad science, slightly-mad science, totally-over-being-mad science, ready-to-forgive-and-move-on science, and cats. She is one half of the power nerdmonster folk duo The Doublekrackens. This monster is inspired by Angela Webber of The Doubleclicks, who create and perform most excellent geek musics and host most excellent comedy shows.
This piece is almost completed! And when it is, print it out for your very own coloring page! Watch for updates on Tumblr, Twitter and Facebook.
And don't worry Scott fans, I will begin wrapping up his story arc next week. Scott will finally decide on a topic for his MED talk! Thanks for letting me take an artistic-divergence-turn with this food truck piece.