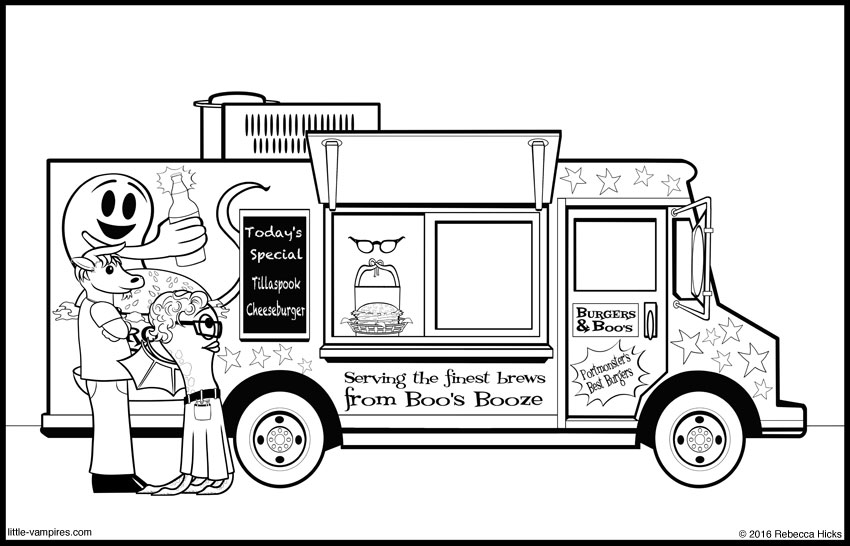 Appearances
CONVENTIONS
Sep

10‑12

2021

Rose City Comic Con

Oregon Convention Center | Portland, OR

Oct

1‑3

2021

MileHiCon

Denver Marriott Tech Center | Denver, CO

Nov

26‑28

2021

San Diego Comic-Con Special Edition

San Diego Convention Center | San Diego, CA

Dec

2‑5

2021

Emerald City Comic Con

Washington State Convention Center | Seattle, WA
Another resident of Portmonster has been revealed in this special Tuesday comic!
Adrian is minotaur who loves Wells's It's All Feta To Me Cheeseburger. Adrian makes some of the finest monster jewelry in Portmonster, and holds the Monster World Record for most Mountain Dew consumed in one day. This monster is inspired by my friend Adrian, who makes the finest geek jewelry as part of Optimystical Studios.
Wells is the co-owner of the Burgers & Boo's food truck. Her brother, Griffin, the barista at Café de l'Ennui in Monsterdell, is not exaggerating when he says she makes the best burgers in Portmonster.
Jennie, a batopus, is one of Well's regular customers. Jennie works part-time as a cartoonist, and part-time as a Utilikilt sales rep. Jennie the monster is inspired by my friend Jennie Breeden, who really is a cartoonist and can totally rock a Utilikilt. You can read her comic HERE.
This is the fifth stage of this piece of art, which will feature several new monsters as they wait in line for Wells's tasty burgers. When it's completed, print it out for your very own coloring page! I'll be adding monsters today through Wednesday, so watch for updates on Tumblr, Twitter and Facebook!