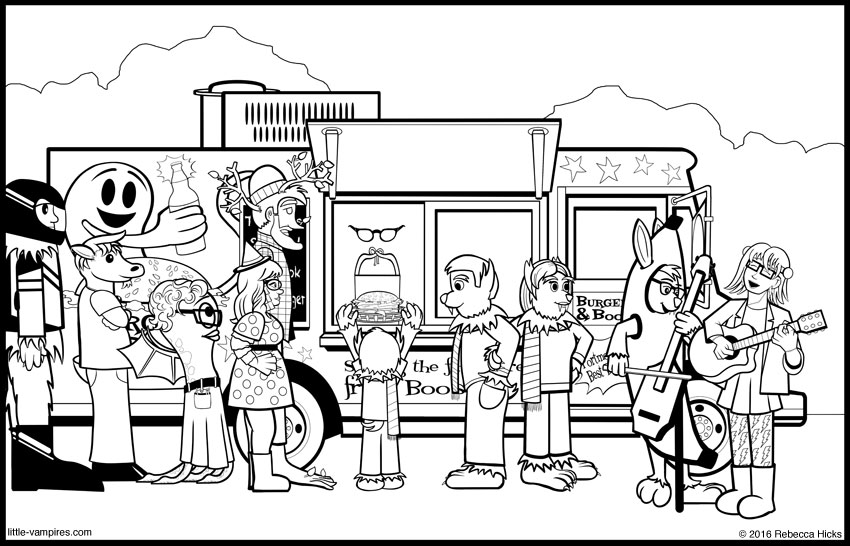 Appearances
CONVENTIONS
Sep

10‑12

2021

Rose City Comic Con

Oregon Convention Center | Portland, OR

Oct

1‑3

2021

MileHiCon

Denver Marriott Tech Center | Denver, CO

Nov

26‑28

2021

San Diego Comic-Con Special Edition

San Diego Convention Center | San Diego, CA

Dec

2‑5

2021

Emerald City Comic Con

Washington State Convention Center | Seattle, WA
The Portmonster coloring page is finally done! Print out this PDF in landscape mode and enjoy the calming joy of coloring. Feel free to share pics of your coloring prowess with Little Vampire fans on Twitter and Facebook.
All the monsters are based on just some of the awesome people that have made James and I feel so at home in the Portland area. I'm sorry I couldn't fit everyone!
Here's a description of all the monsters hanging out at the food truck, starting with the cook, then moving from left to right.
Wells is an invisible, and the co-owner of the Burgers & Boo's food truck. Her brother, Griffin, the barista at Café de l'Ennui in Monsterdell, is not exaggerating when he says she makes the best burgers in Portmonster.
There is a large population of Sasquatch in Portmonster, and they need real estate agents to help them find the finest forest housing. That's where Mason comes in. The lead seller for Full Sasquatch Realty, Mason spends his work hours helping all monsters find homes, and his off hours riding his motorcycle, belting out Neil Diamond songs at local karaoke bars, and playing hockey.
Adrian is a minotaur who loves Wells's It's All Feta To Me Cheeseburger. Adrian makes some of the finest monster jewelry in Portmonster, and holds the Monster World Record for most Mountain Dew consumed in one day.
Jennie, a batopus, is one of Well's regular customers. Jennie works part-time as a cartoonist, and part-time as a Utilikilt sales rep.
Lucia is a gill monster who can play mandolin both on land and underwater. She also writes and perform comedy sketches, can speak to squirrels, and is a witch with a magic wand that allows her to find any cannoli within a five block radius. Her bestie Kyle is a tree monster and lumberjack, and he's okay. He plays guitar and sings songs in Old Entish, and can school anyone in matters of history and politics while simultaneously beating them in Settlers of Catan.
The eager young werewolf receiving his Tillaspook Cheeseburger is Liam, who lives with his family in the Portmonster suburb of Hillsbarrowwight. His father, Stacey, and mother, Tracy work at Imptel, and love taking the MERMAX light rail into downtown Portmonster to cheer on their favorite soccer team, the Timberwerewolves. Liam is the proud owner of fifteen-and-a-half Timberwerewolves scarves, and the largest toy sword collection in the Portmonster area. Stacey is an accomplished musician and plays hockey with Mason the Sasquatch. Tracy is the only non-dragon member of the best dragon boat team in Portmonster. The coaches were skeptical during her try out until Tracy showed them her mad paddling skills and ate a ghost chili pepper and breathed fire.
Aubrey is a cello-playing bananarabbit. Or she's just a rabbit with fangs in a banana suit, no one is exactly sure. Not that it matters, because in Portmonster, you can be you. Frankengela is a reanimated singer-songwriter that writes and performs songs about science, mad science, slightly-mad science, totally-over-being-mad science, ready-to-forgive-and-move-on science, and cats. Together they form the power nerdmonster folk duo The Doublekrackens.