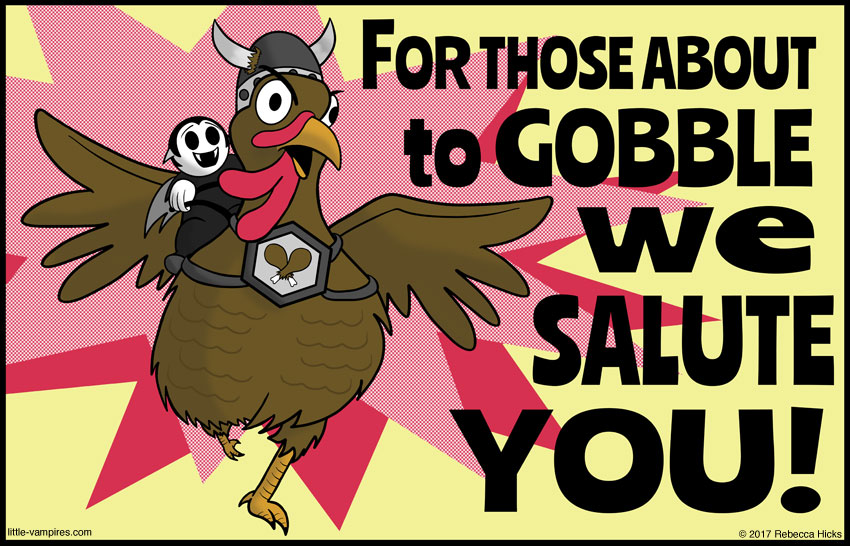 Appearances
CONVENTIONS
Sep

10‑12

2021

Rose City Comic Con

Oregon Convention Center | Portland, OR

Oct

1‑3

2021

MileHiCon

Denver Marriott Tech Center | Denver, CO

Nov

26‑28

2021

San Diego Comic-Con Special Edition

San Diego Convention Center | San Diego, CA

Dec

2‑5

2021

Emerald City Comic Con

Washington State Convention Center | Seattle, WA
Happy Thanksgiving to my fellow Americans! And all my love and gratitude to you for loving the Little Vampires.
I will be taking a break from creating the comic for the next two weeks. This is because of the holiday and holiday visitors, and because of the amount of infrastructure work that I need to get done. The creative part of my work is not, unfortunately, the only part.
One of the things I'll be working on is improving our online store. The goal is to be open on Cyber Monday, November 27th, for all your holiday shopping. Follow me on Facebook for updates!
I will also be working on creating the comic, with the goal of having the next few story arcs planned out. I'm also working on improving some character designs. You'll get to see the results of my plotting and scheming on December 4th, when the comic returns! Until then, please enjoy the archives, which are now over 1,000 comics strong!