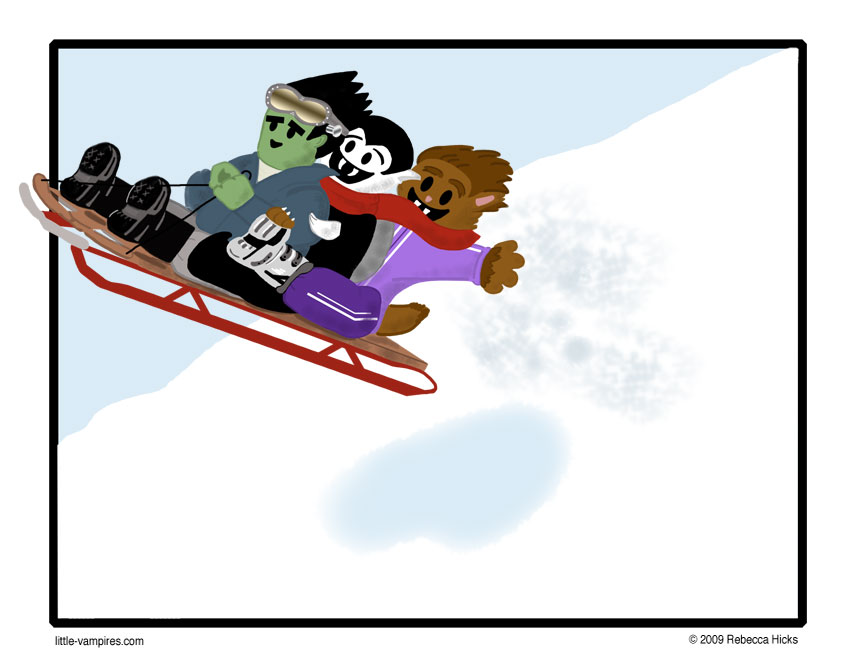 Appearances
CONVENTIONS
Sep

10‑12

2021

Rose City Comic Con

Oregon Convention Center | Portland, OR

Oct

1‑3

2021

MileHiCon

Denver Marriott Tech Center | Denver, CO

Nov

26‑28

2021

San Diego Comic-Con Special Edition

San Diego Convention Center | San Diego, CA

Dec

2‑5

2021

Emerald City Comic Con

Washington State Convention Center | Seattle, WA
We don't get a lot of snow here in Southern California, but if we did, I would go sledding. There is just something inherently joyful about the simple act of sliding down a surface. So I know that the Little Vampires and their friends would not hesitate to grab their faithful Rosebud sled and hit the little slopes at the first sign of snowfall.
Christmas Cards!
I normally get a much earlier start on this, but not so this year. For the past two holiday seasons, I have sent holiday cards to fans that have requested them. It's one of the ways I say thank you. It's not nearly adequate enough to truly thank you for all your support, but it's something. :) This week's strip will be this year's card. If you would like me to send you a card via snail mail ('cause girl kicks it old school over here), then just e-mail me your mailing address, and the names of the people you would like me to make the card out to.
If you send me the info by the 21st, the card should make it to you for Christmas. But if you would like a New Year's card, that's fine too. :)
So e-mail for snail mail!