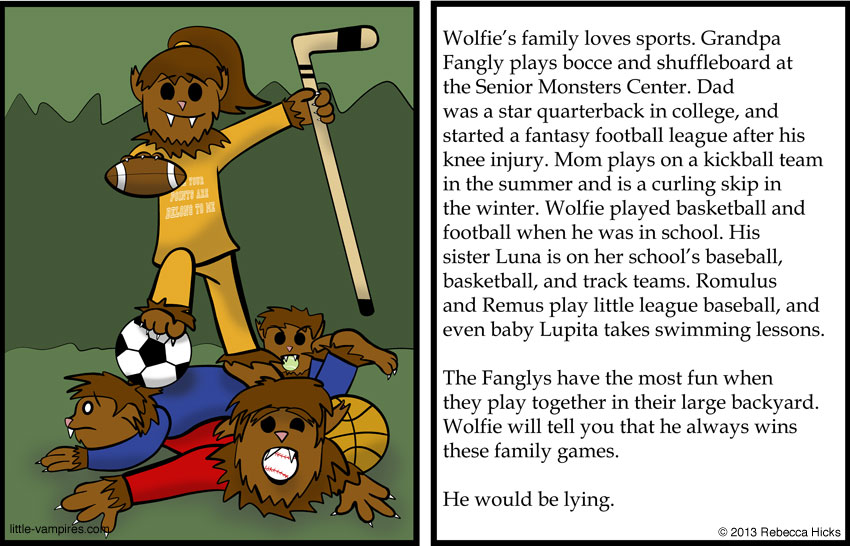 Appearances
CONVENTIONS
Sep

10‑12

2021

Rose City Comic Con

Oregon Convention Center | Portland, OR

Oct

1‑3

2021

MileHiCon

Denver Marriott Tech Center | Denver, CO

Nov

26‑28

2021

San Diego Comic-Con Special Edition

San Diego Convention Center | San Diego, CA

Dec

2‑5

2021

Emerald City Comic Con

Washington State Convention Center | Seattle, WA
Today is the fourth anniversary of the Little Vampires webcomic! I am in awe of the support I've gotten over the years for this crazy project of mine. Thank you sososo much!
To celebrate, this Wednesday's comic is going to be the Little Vampires and their friends Trick-or-Treating. I'm going to let you send in suggestions for what costumes they'll be wearing! I intend to include the Little Vampires, Frank and Elsa, and Wolfie and his siblings (if you'd like to see another character, let me know). What costumes do you think they should be wearing? You know and love these characters as much as I do, so I can't wait to see what you come up with!
Share your ideas in the comments, on Twitter, or on the Little Vampires Facebook page
Thanks to everyone who came to the Digital Gym Cinema this weekend for the Horrible Imaginings Film Festival! The Little Vampires had a great time watching Nosferatu when they were there on Friday night. Big hugs and thanks to Miguel Rodriguez for putting so much work into creating this amazing show. If you loves monsters and horror and just plain old geeky awesomeness, check out Miguel's podcast, Monster Island Resort.