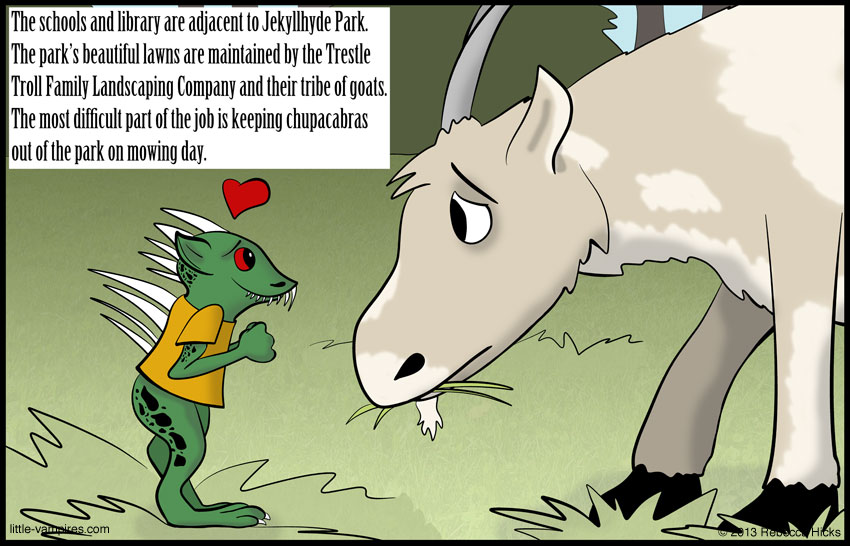 Appearances
CONVENTIONS
Sep

10‑12

2021

Rose City Comic Con

Oregon Convention Center | Portland, OR

Oct

1‑3

2021

MileHiCon

Denver Marriott Tech Center | Denver, CO

Nov

26‑28

2021

San Diego Comic-Con Special Edition

San Diego Convention Center | San Diego, CA

Dec

2‑5

2021

Emerald City Comic Con

Washington State Convention Center | Seattle, WA
When I write the narration for the Monsterdell comics, I hear Stephen Fry in my head. You can hear any voice you'd like, of course. 🙂 You can read the Monsterdell arc from the beginning starting HERE.
Researching monsters and mythical creatures from around the world for this story arc has been a lot of fun. I encourage you to look them up as well! There are some crazy, fun monsters out there. The chupacabra is one of my favorites because it's a recent creation. Making up fantastical stories that people believe despite their unbelievability seems like the kind of thing that only happened in the distant past. But the chupacabra was first "sighted" in the mid-1990's.
Happy birthday to Randy Yarger and Dr. Tom Duffy! Neither of whom are goat-blood suckers, as far as I know.
Labor Day is this Monday, and I'll be taking the day off from doing the comic. I won't be taking a break from working, though. Both James and I are getting ready for Scarefest, the Viva Comics! Art Gallery exhibit, and Keen Halloween. We're making a new booth design, and I'm making as many Halloween-themed crafts as I can. We put the labor in Labor Day weekend. 🙂 Enjoy your holiday, my fellow Americans! I will post information about our upcoming appearances in the blog next week.