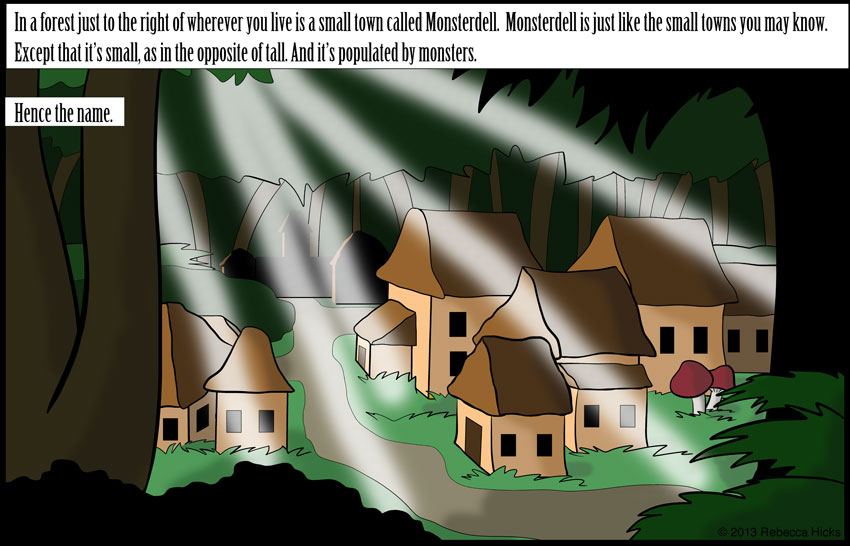 Appearances
CONVENTIONS
Sep

10‑12

2021

Rose City Comic Con

Oregon Convention Center | Portland, OR

Oct

1‑3

2021

MileHiCon

Denver Marriott Tech Center | Denver, CO

Nov

26‑28

2021

San Diego Comic-Con Special Edition

San Diego Convention Center | San Diego, CA

Dec

2‑5

2021

Emerald City Comic Con

Washington State Convention Center | Seattle, WA
UPDATE: The comic will be posted a little later than usual today. Thanks for your patience!
The Little Vampires and their monster friends live in our world. But they've made their own world within ours, and I wanted to share it with you. So welcome to Monsterdell. Enjoy your stay.
I wanted to take this opportunity to thank you. I'm going to be pushing myself artistically with this story arc. Specifically, I want to get more practice at drawing environments. I want to thank you because I feel safe doing that. I feel safe drawing things I'm not practiced at drawing. I feel safe taking that risk and drawing something technically difficult, something that might not come out looking right. I feel safe because you are the most loving and supportive people I've ever known.
I always give you my best. But an awesome thing about being an artist is that my best keeps changing. But I can't change it for the better unless I take on more difficult challenges. Which means I'll make mistakes. But I feel safe making mistakes. Because you are loving and supportive. And that's what I wanted to thank you for.
Speaking of trying new things, we will be exhibiting at a new convention this coming weekend. ScareLA is a Halloween themed convention in Los Angeles. We're excited to check it out!

Happy birthday to my big brother Jim!