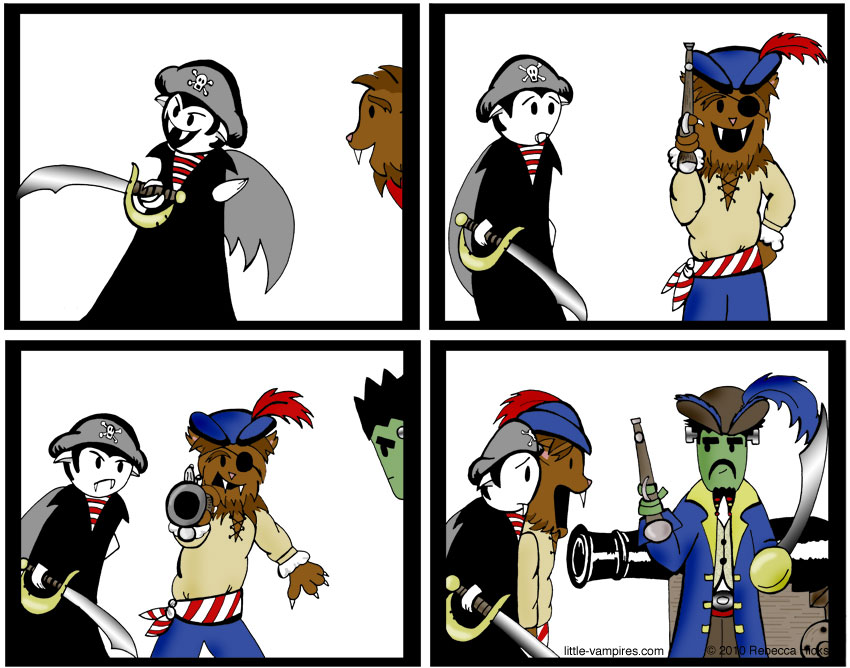 Appearances
CONVENTIONS
Sep

10‑12

2021

Rose City Comic Con

Oregon Convention Center | Portland, OR

Oct

1‑3

2021

MileHiCon

Denver Marriott Tech Center | Denver, CO

Nov

26‑28

2021

San Diego Comic-Con Special Edition

San Diego Convention Center | San Diego, CA

Dec

2‑5

2021

Emerald City Comic Con

Washington State Convention Center | Seattle, WA
UPDATE: Now in colARRRR!
Sunday the 19th is International Talk Like a Pirate Day!
Really. I'm not making that up.
I'll get the colors for this week's strip posted before evening my time. Thanks for your patience!
Those of you who follow me on Twitter and Facebook know that Matt the Cat, who appears as The Cat in the world of the Little Vampires, has been successfully fighting cancer since last fall. He took a turn for the worse last week, and refused to eat without some insistent assistance from me. I'm happy to report that he has since rebounded, and appears to be doing just fine. Thanks to everyone that shared their support and understanding! And thanks to the amazing vets and techs at Cheshire Cat Feline Health Center. I hope that everyone out there with pets has caregivers as awesome as the folks at Cheshire Cat.