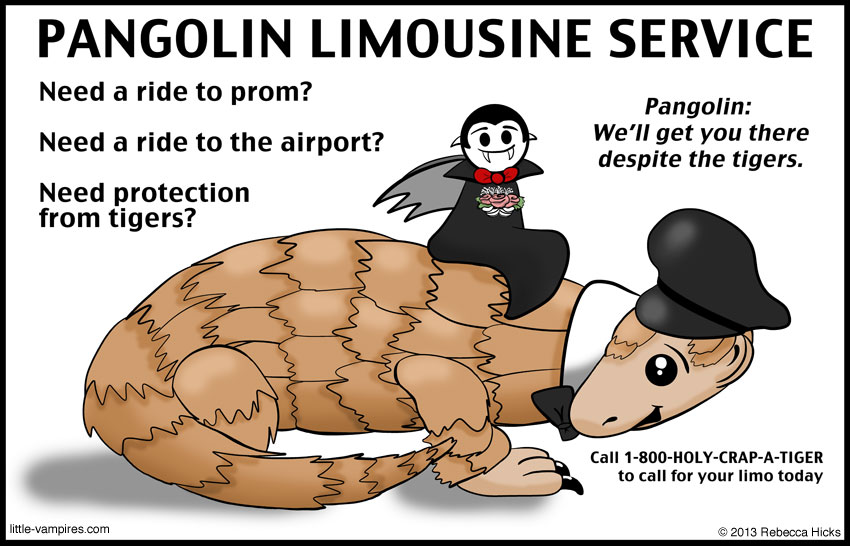 Appearances
CONVENTIONS
Sep

10‑12

2021

Rose City Comic Con

Oregon Convention Center | Portland, OR

Oct

1‑3

2021

MileHiCon

Denver Marriott Tech Center | Denver, CO

Nov

26‑28

2021

San Diego Comic-Con Special Edition

San Diego Convention Center | San Diego, CA

Dec

2‑5

2021

Emerald City Comic Con

Washington State Convention Center | Seattle, WA
The pangolin is a real live animal! I thought it was just a Pokemon. But it's real! This thing is an armored mammal, and yes, it can withstand tiger and lion attacks by just curling up into an adorable ball of badass. Watch it cope with a pride of lions like it's just another day in the neighborhood. Pangolin video. WARNING: This video has epic music and uses filters and slow-motion for no good reason.
Thanks to David Oakes for suggesting "corsage" and Marie McNeill, lover of strange animals, for "pangolin."
I'll be posting details about where you can find us at San Diego Comic-Con soon. Keep on eye on the blog. Two, if you can spare them.