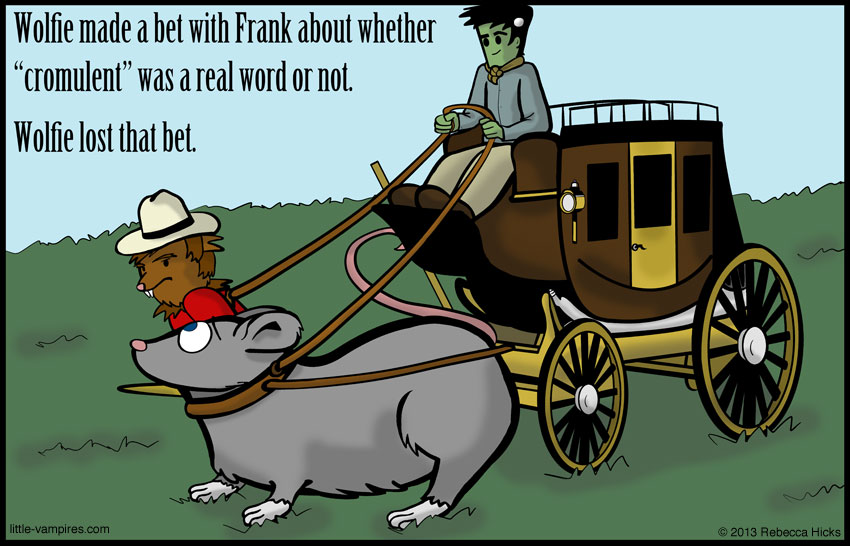 Appearances
CONVENTIONS
Sep

10‑12

2021

Rose City Comic Con

Oregon Convention Center | Portland, OR

Oct

1‑3

2021

MileHiCon

Denver Marriott Tech Center | Denver, CO

Nov

26‑28

2021

San Diego Comic-Con Special Edition

San Diego Convention Center | San Diego, CA

Dec

2‑5

2021

Emerald City Comic Con

Washington State Convention Center | Seattle, WA
This comic is based on "Cromulent" and "Stagecoach," the two topics I pulled from the Top Hat of Random Topics. Thanks to Marie McNeill and my brothaaaa Thomas Farmer for contributing those two topics to the hat. This was the most challenging one so far! Drawing this took so much longer than I anticipated, and I apologize that I didn't have time to get the colors completed. I'll have this comic all technicolor and shiny before the end of today.
Congrats to my brother Jim for getting married this weekend. Welcome to the family Susie!
Congratulations to my dear friends Kristen and Neal, for they brought a beautiful baby boy into the world this weekend! Live long and geek, little Milo. Someday I will read to you The Phantom Tollbooth, one of my favorite books, which has a protagonist with which you share a name.
This fabulous art was sent in by Curtis Chandler, maker of awesome cookies and caster of pods. Check out his Clinically Inane podcast. Thanks Curtis!!