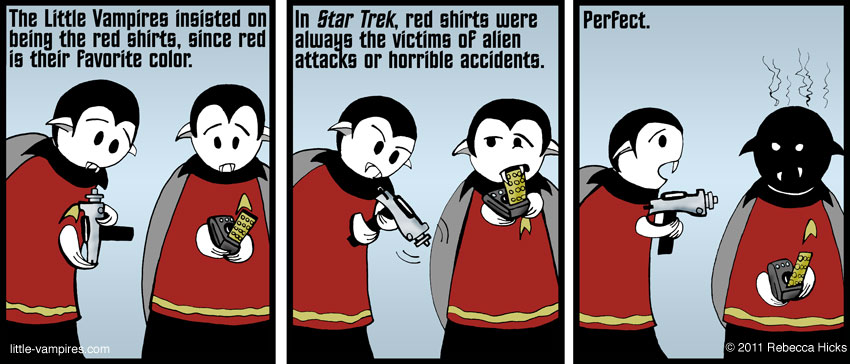 Appearances
CONVENTIONS
Sep

10‑12

2021

Rose City Comic Con

Oregon Convention Center | Portland, OR

Oct

1‑3

2021

MileHiCon

Denver Marriott Tech Center | Denver, CO

Nov

26‑28

2021

San Diego Comic-Con Special Edition

San Diego Convention Center | San Diego, CA

Dec

2‑5

2021

Emerald City Comic Con

Washington State Convention Center | Seattle, WA
The Little Vampires take the idea of the red shirt to a whole new level.
We're premiering our new online store! James has been working diligently on making your online shopping experience more fun than monkeys throwing jellybeans. Check out the new way to buy Little Vampires books and merch, and lots more artwork from me. And please, give us feedback!
We will be in Kentucky this weekend for the Powell County Reading Celebration. We'll also be having a meet-up in Lexington. Come have coffee with me and the family! We'll be hanging out at Common Grounds from 10:30-11:30 a.m. on the 26th.
If any of my PoCo peeps can't make it to coffee, I'll be rushing off to the Reading Celebration at the Middle School after the Lexington meet-up and lunch with family.
If anyone coming to the meet-up or Reading Celebration would like to buy a specific piece of merch without paying for shipping, check out the new store, shoot me an e-mail and tell me what you'd like me to bring.