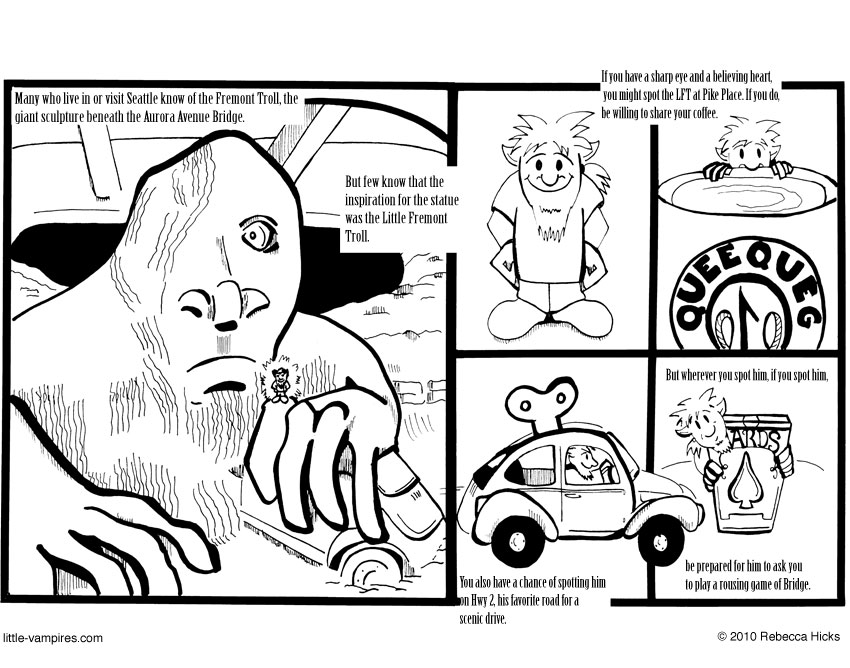 Appearances
CONVENTIONS
Sep

10‑12

2021

Rose City Comic Con

Oregon Convention Center | Portland, OR

Oct

1‑3

2021

MileHiCon

Denver Marriott Tech Center | Denver, CO

Nov

26‑28

2021

San Diego Comic-Con Special Edition

San Diego Convention Center | San Diego, CA

Dec

2‑5

2021

Emerald City Comic Con

Washington State Convention Center | Seattle, WA
Last weekend we had a great time Staple! in Austin, Texas. This weekend, we'll have a great time in Seattle at Emerald City Comicon. The weekend after that, we unplug all communication devices and sleep, so if you want to see us upright, stop by booth 808 at the Washington State Convention Center.
Since I acknowledged our love of Austin and of Staple! in last week's strip, I thought I'd acknowledge our love of Seattle and the ECCC in this week's. One of our favorite spots in the Emerald City is the Fremont Troll, and since he was a monster, it was a no-brainer to incorporate him into the Little Vampire universe.
I apologize for the lack of color, but having two conventions in a row that require us to board an airplane left me no time to whip out the Photoshop and give everyone the chance to taste the rainbow. I also apologize for the lack of a Staple! con report. We had a great time and got to hang with great people, but it's just too much awesome to write about right now. I'll be doing a Staple!/ECCC mash-up next week.
After I sleep.