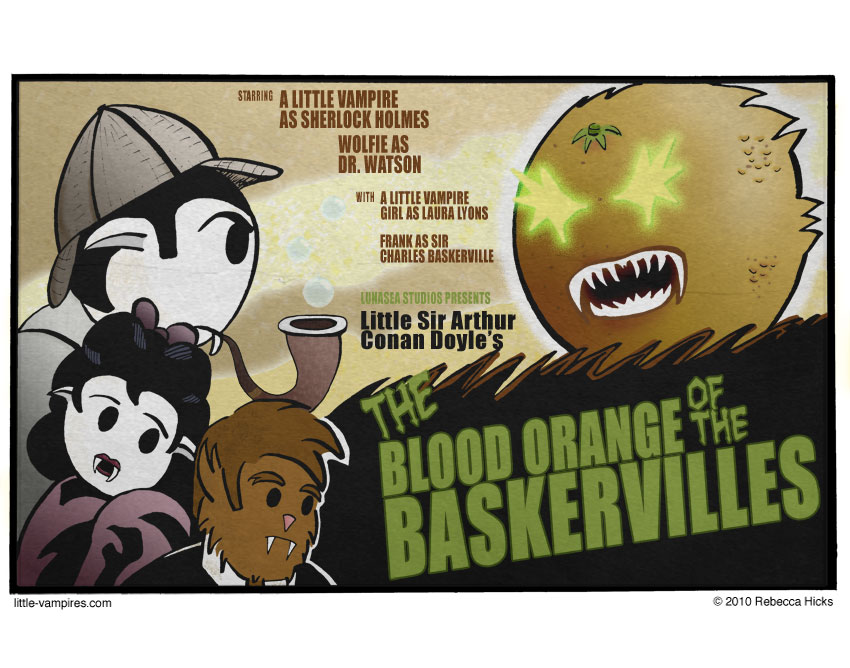 Appearances
CONVENTIONS
Sep

10‑12

2021

Rose City Comic Con

Oregon Convention Center | Portland, OR

Oct

1‑3

2021

MileHiCon

Denver Marriott Tech Center | Denver, CO

Nov

26‑28

2021

San Diego Comic-Con Special Edition

San Diego Convention Center | San Diego, CA

Dec

2‑5

2021

Emerald City Comic Con

Washington State Convention Center | Seattle, WA
UPDATE: Now in shining Technicolor-y goodness!
I've been a fan of Sherlock Holmes since I was a girl, and I imagine the Little Vampires would be fans as well. Their innate curiosity would make a good mystery very appealing to them.
Though a fan of the classic film and TV interpretations of Holmes, I also loved the new Sherlock Holmes movie. I do love a good reinterpretation of archetypal characters, what can I say?
This strip was inspired by two classic Sherlock Holmes movie posters. It was colored, but right before posting my file corrupted itself into oblivion. How? Why? That's another mystery. I am not one to give up, however, and will be posting a colored version as soon as I'm able. Until then, feel free to break out the crayons and have a go for yourself.
I'd love to hear what classic movie posters you would like to see Little Vampirized. I really enjoyed doing this particular piece, and envision the Little Vampires and their friends loving movies. I'd love to put them into more movie posters, so tell me what you'd like to see!