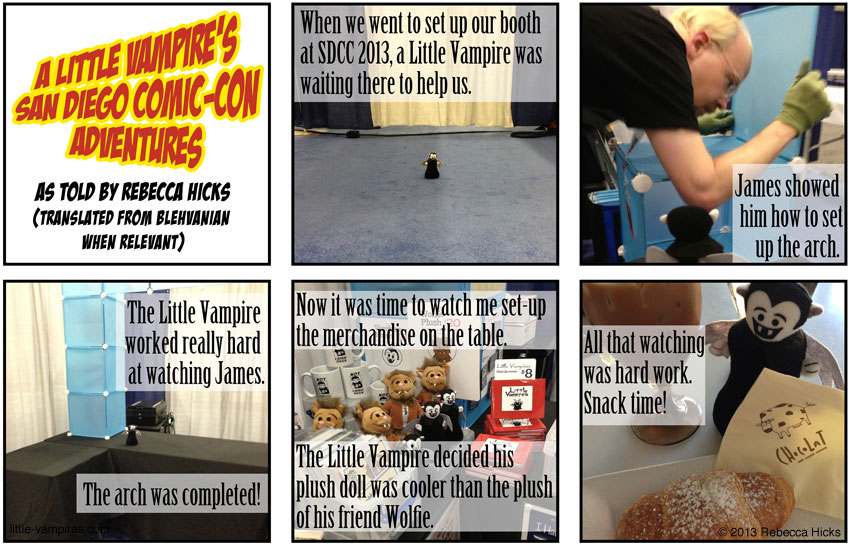 Appearances
CONVENTIONS
Sep

10‑12

2021

Rose City Comic Con

Oregon Convention Center | Portland, OR

Oct

1‑3

2021

MileHiCon

Denver Marriott Tech Center | Denver, CO

Nov

26‑28

2021

San Diego Comic-Con Special Edition

San Diego Convention Center | San Diego, CA

Dec

2‑5

2021

Emerald City Comic Con

Washington State Convention Center | Seattle, WA
San Diego Comic-Con is too much convention to encapsulate into any amount of photo comics, but I will endeavor to try and share at least a part of the experience with you. Through the eyes of a Little Vampire, of course.
So many people make SDCC the great experience that it is. First and foremost is everyone that comes by the booth to show us love and support. It's a long and exhausting and expensive convention to exhibit at, so thankyouthankyouthankyou to anyone who gave us hugs, fist bumps, words of praise and encouragement, and who bought merch. Thanks to James for just being indescribably amazing, as always. Thanks to Jason for being the best minion ever even before he brought donuts. Thanks to Bruce for sharing his time and his trunk space for load-out. Thanks to Jennie and Obby and Alina for being wonderful houseguests, and to Alina for being just the greatest person to share a booth with. Thanks to the Adams clan, Oni Press, and Giant Robot for being such lovely neighbors again. They are all class acts, for they treat little guys like us with such kindness and respect. Thanks to "my doctor" for bringing his fellow Whovians by the booth again. Thanks to Beth and Miguel and their peeps for all the shout-outs, and for the Minion stress toy. Thanks to Lissie for being the sweetest fairy tale princess a Nerdy Godmother like me could know. Thanks to Daniel and Dawna for the moral support. Thanks to Lar for, well, just being Lar. Thanks to Will for arranging one of the best dinners I've ever had. Thanks to Molly Lewis and Marian Call and The Doubleclicks for making attending an after-con-day-concert sooooo worth the lack of sleep.
Speaking of The Doubleclicks … they released their latest video. It's amazing and makes me cry with geek girl pride and I'm in it. 🙂 Watch it HERE!
I'm in a music video!!!!!! OMG!!!!!