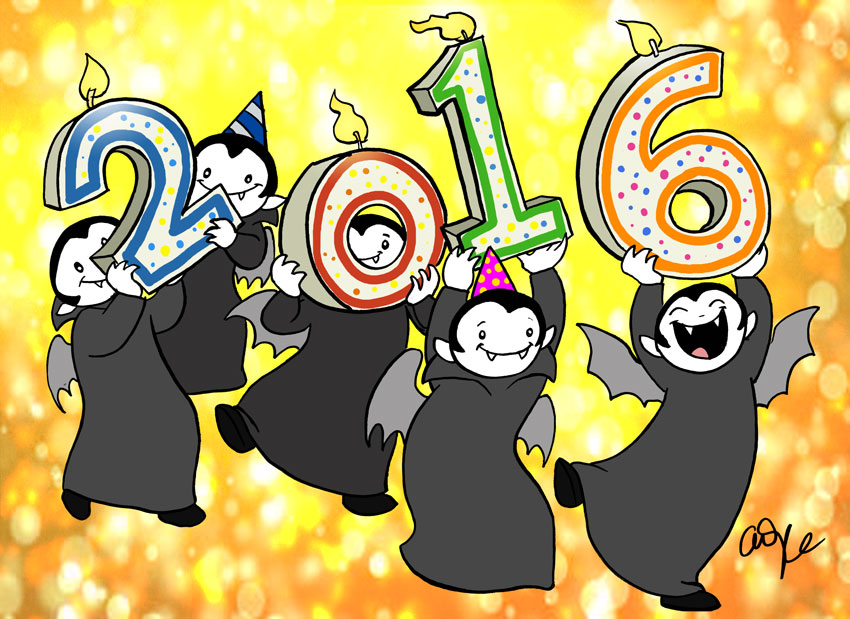 Appearances
CONVENTIONS
Sep

10‑12

2021

Rose City Comic Con

Oregon Convention Center | Portland, OR

Oct

1‑3

2021

MileHiCon

Denver Marriott Tech Center | Denver, CO

Nov

26‑28

2021

San Diego Comic-Con Special Edition

San Diego Convention Center | San Diego, CA

Dec

2‑5

2021

Emerald City Comic Con

Washington State Convention Center | Seattle, WA
Welcome to 2016, and welcome back to Monsterdell! The Little Vampires and I have missed you, and have lots of information to share with you.
I'll start with telling you about today's guest comic. It was drawn by the amazing bird-woman of the O Canadas, Alina Pete. She draws my favorite gaming comic, Weregeek. It's my favorite because there's so much more to it than easy jokes about games and gamer culture. Alina has created a truly diverse cast of characters that are so flawed, so funny, and so real. Please check out her comic if you are a gamer, know a gamer, want to know about gamers, love comics with rich characters and great art, or just really like the occasional drawing of birds and dinosaurs.
Alina was kind enough to take time out of her busy schedule to draw this for you because of a series of events that delayed my own return to the comic. As I shared before the holidays, James and I moved to Beaverton, Oregon. We drove from San Diego to our new home in an epic and fun three-day road trip. We arrived on December 9. Our furniture didn't arrive until the 16th. Needless to say, that delayed my return to the comic since my computer was trapped on a truck for far longer than I had planned.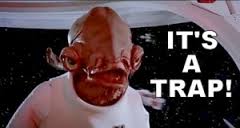 I also lost my father in mid-December. It's okay. I miss him, but it's okay. He was ill for twenty years, due to a combination of heart attacks and cancer. He doesn't have to feel the stress and pain that comes with the chaos of the human body anymore. I'm happy for that, at the same time I'm sad for missing him.
He loved Star Trek. He loved Star Wars. He loved to go fishing, and to cook what he caught. He loved bad jokes, and some really bad jokes. And some really really bad jokes. He made damned good deviled eggs, and oh-damn-don't-eat-that meatloaf. He loved Bluegrass music and Doo Wop. He loved The Quiet Man and watched it every St. Patrick's Day. He was never much of a reader, but took up the habit later in life. When I recommended he read The Sparrow, he loved it so much he named his boat Sparrow.
He also loved cats.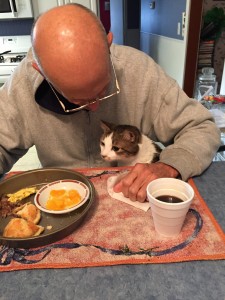 This is my last photo of him. It's also my favorite of him.
I returned to Kentucky to be with my incredibly strong mother and my brothers, and was overwhelmed with the love that friends and family showed all of us at my father's visitation. I was also overwhelmed by the show of love and support from my artist friends. Which brings me back to the guest comic.
Alina did more than draw today's comic. She asked other artists to draw some for me as well. She did this to give me time to get settled into my new home, and to give me time to grieve for my father. So the next few comics will be guest art from some of the most talented people I know. Their talent doesn't begin to approach the level of their kindness.
Thank you everyone for your love and understanding. I will be back to telling Little Vampire tales myself very soon … now where did I pack my pencils …