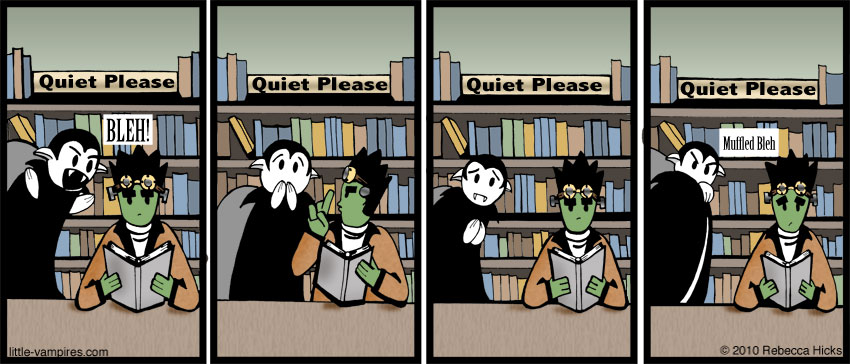 Appearances
CONVENTIONS
Sep

10‑12

2021

Rose City Comic Con

Oregon Convention Center | Portland, OR

Oct

1‑3

2021

MileHiCon

Denver Marriott Tech Center | Denver, CO

Nov

26‑28

2021

San Diego Comic-Con Special Edition

San Diego Convention Center | San Diego, CA

Dec

2‑5

2021

Emerald City Comic Con

Washington State Convention Center | Seattle, WA
The world of the Little Vampires has its own public library system, where little monsters can read and reflect in a quiet environment. Most of the time.
We were in Texas for the small but mighty Dallas Webcomics Expo this past weekend. Even the heat couldn't keep us from having a great time there. Thanks to everyone that came by the table! Big Little Vampire love to the founders of the event, Thomas Overbeck, Michael Moreno, and Jonathan Caustrita. Thanks for putting me on that amazing Webcomics Economics panel, guys! And hugs to Randall Milholland for making me feel like I had a right to be on that panel with him, Jonathan, Joel Watson and Rob Denbleyker. Even beardless, Randall is a classy dude.
Samantha Wikan and Barry Buchanan and Chris Jeffrey were there, and get the fellow webcomicker love. It thrills me to no end to actually know such awesome people and their families! Thanks for the fan art Gracie and Emily Buchanan! I think you two should do a webcomic.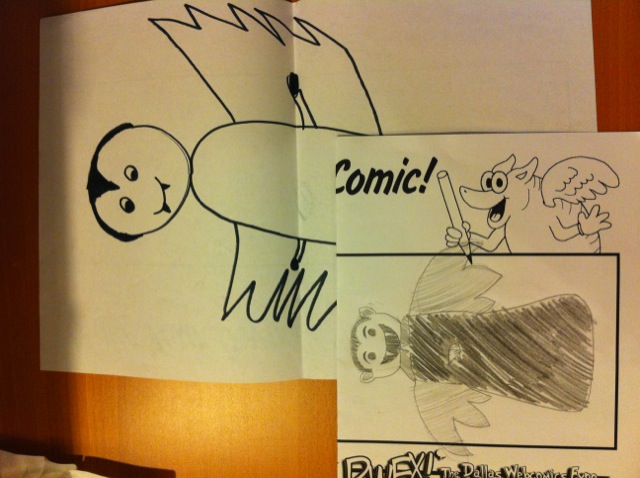 Big love to Barbara! She bought my piece in the art auction, and helped support some awesome charities. That's why she got a mermaid with a ray gun sketch. 'Cause that's just what you get when you support awesome charities.