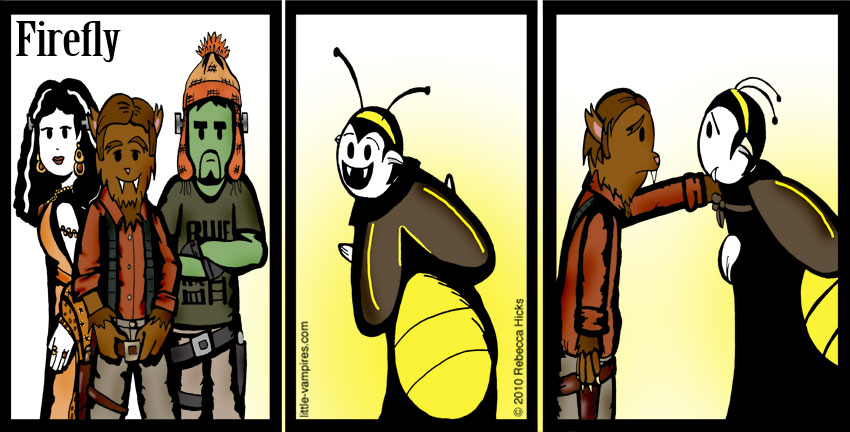 Appearances
CONVENTIONS
Sep

10‑12

2021

Rose City Comic Con

Oregon Convention Center | Portland, OR

Oct

1‑3

2021

MileHiCon

Denver Marriott Tech Center | Denver, CO

Nov

26‑28

2021

San Diego Comic-Con Special Edition

San Diego Convention Center | San Diego, CA

Dec

2‑5

2021

Emerald City Comic Con

Washington State Convention Center | Seattle, WA
The Little Vampires and their friends love dressing up as their favorite Firefly characters. But just like last week, they have to deal with that one Little Vampire that didn't quite get the costume memo. This week's strip is a jelly bean cupcake gift to my fans that are also Browncoats.
We had a great time at APE this past weekend! Thanks to everybody that stopped by our table. Extra big thanks to Deb Aoki for being awesome enough to drive us to dinner in San Francisco, the City In Which I Most Hates To Drive.
This is the last week to order your Glow-in-the-Dark Trick or Treat Buckets! Don't miss out on this holiday special. You can haz bukket!