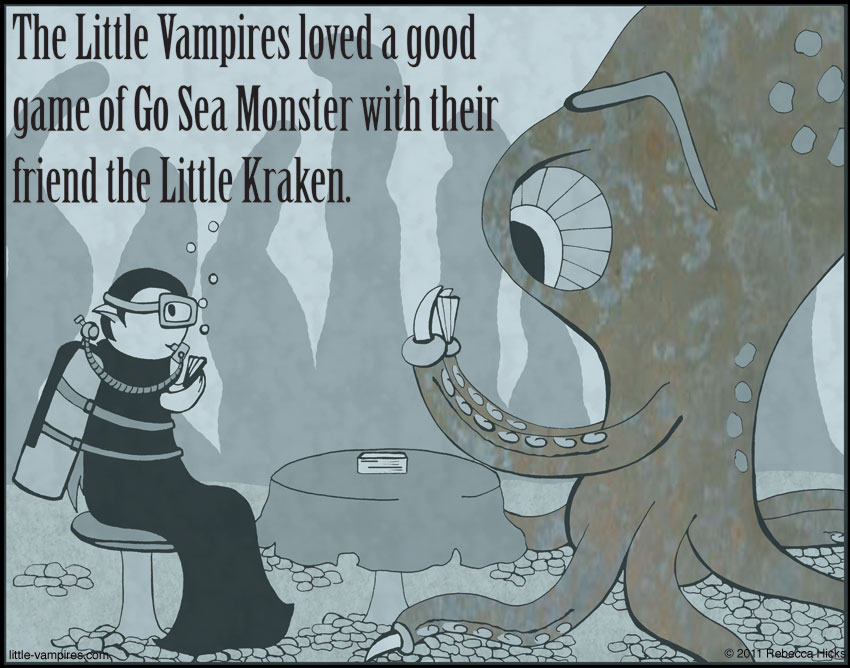 Appearances
CONVENTIONS
Sep

10‑12

2021

Rose City Comic Con

Oregon Convention Center | Portland, OR

Oct

1‑3

2021

MileHiCon

Denver Marriott Tech Center | Denver, CO

Nov

26‑28

2021

San Diego Comic-Con Special Edition

San Diego Convention Center | San Diego, CA

Dec

2‑5

2021

Emerald City Comic Con

Washington State Convention Center | Seattle, WA
UPDATE: Now in color!
The Little Kraken uses special weighted cards to play underwater. And the Little Vampires use special blood orange flavored air in their scuba tanks.
I apologize (again!) for the lack of color. I ran out of time to get the strip ?done, but it was so worth it! I spent a day with some of the amazing kids at Hillsides School in Pasadena. I read my book, answered questions, and talked with them about the history of vampires. Thanks to Sherri, the Hillsides librarian, for inviting me. It was an honor to hang with such great kids and teachers.
The colors will be up later today. Until then, be sure to check out the store for a great deal to celebrate the 100th comic. Free shipping on books and plush dolls ends this Friday!