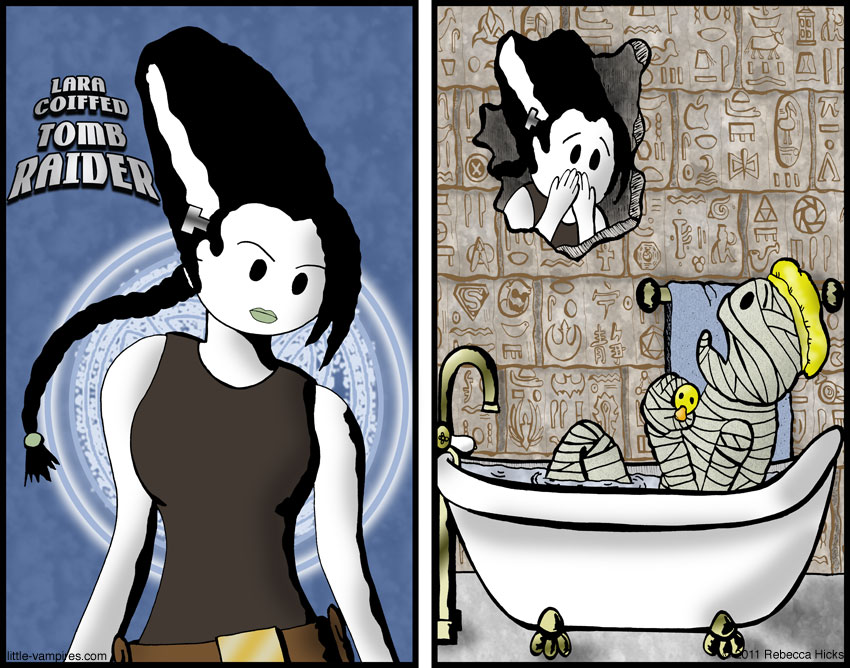 Appearances
CONVENTIONS
Sep

10‑12

2021

Rose City Comic Con

Oregon Convention Center | Portland, OR

Oct

1‑3

2021

MileHiCon

Denver Marriott Tech Center | Denver, CO

Nov

26‑28

2021

San Diego Comic-Con Special Edition

San Diego Convention Center | San Diego, CA

Dec

2‑5

2021

Emerald City Comic Con

Washington State Convention Center | Seattle, WA
Being a Tomb Raider can get awkward when you have friends that live in tombs.
I had so much fun making today's strip, and I want you to have fun with it too. Mumsy's bathroom wall has some actual Egyptian hieroglyphics on it, but also has some geekroglyphics. Think you can spot them all? Send an e-mail to me at rhicks@lunasea-studios.com with a list of the geekroglyphics that you found. Tell me what the symbol is, and/or what geek movie, TV show, game, comic, or whatever it comes from. An example of a list entry would be "Starfleet symbol from Star Trek."
Yes, there is a Starfleet symbol on the wall. Consider that one a freebie. 🙂
The entrant with the most correct entries on their list will win a sketch card of their choice from me! So get your geek on and win some custom art! Contest ends on Friday, June 17th.