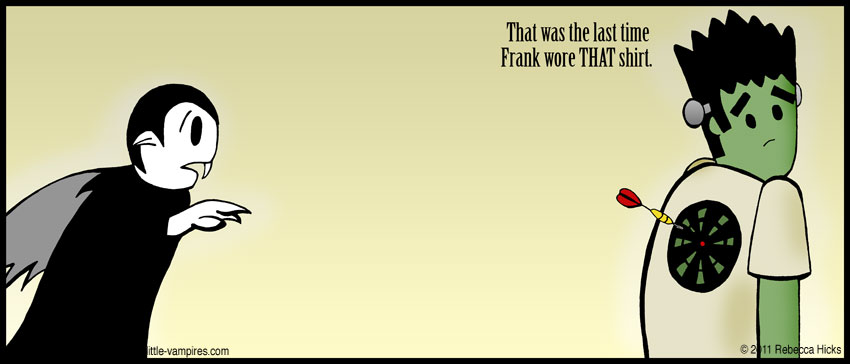 Appearances
CONVENTIONS
Sep

10‑12

2021

Rose City Comic Con

Oregon Convention Center | Portland, OR

Oct

1‑3

2021

MileHiCon

Denver Marriott Tech Center | Denver, CO

Nov

26‑28

2021

San Diego Comic-Con Special Edition

San Diego Convention Center | San Diego, CA

Dec

2‑5

2021

Emerald City Comic Con

Washington State Convention Center | Seattle, WA
Wolfie gave that shirt to Frank. Wolfie also gave the Little Vampires a set of darts. Wolfie denies any and all accusations of mischief.
UPDATE: I totally forgot to give credit to Jason Sacks (Uberlunatic extraordinaire) for giving me the inspiration for today's strip. Derp! Sorry Jason! Check out Jason's great work over at Comics Bulletin.
We're getting ready for the Calgary Comic Expo! Yes, that's Calgary as in Canada. We're looking forward to bringing the Little Vampires to their fans in the Great White North.
Fan shout-out! I had the honor of drawing some Dr. Who sketch cards for the fabulous Nicholas, who is more aware than most of just how cool fezzes are.