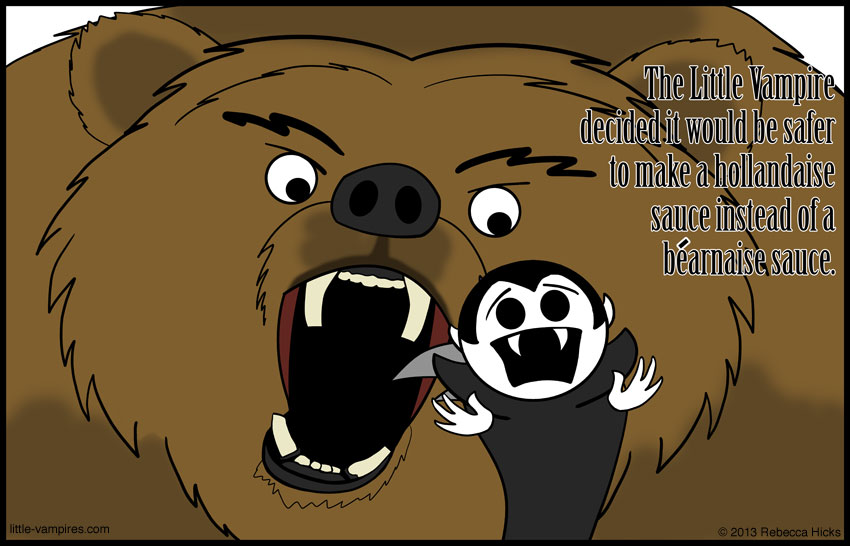 Appearances
CONVENTIONS
Sep

10‑12

2021

Rose City Comic Con

Oregon Convention Center | Portland, OR

Oct

1‑3

2021

MileHiCon

Denver Marriott Tech Center | Denver, CO

Nov

26‑28

2021

San Diego Comic-Con Special Edition

San Diego Convention Center | San Diego, CA

Dec

2‑5

2021

Emerald City Comic Con

Washington State Convention Center | Seattle, WA
He is definitely not making any bear claw pastries.
Fan Art Request
I'm hard at work on the second Little Vampire printed collection, called The Fellowship of the Bleh. This second book is dedicated to you, the amazing Little Vampire fans that have helped me continue to do the work I love so much. As a way to say thank you, I'm going to include fan art in the book. So send some my way! This can include photos of your Little Vampire or Wolfie plush, monster cosplay, or drawings that you might think are meh but that I will think are awesome. If you break into itchy spots at the idea of drawing, write a blurb and share your thoughts about the Little Vampires and their friends. Or do a drawing and a blurb! E-mail submissions (at least 300 dpi) to me at rhicks@lunasea-studios.com
I'd like anything you've got sent in by the end of January/beginning of February. Thank you all! And thanks to everyone that has already sent in photos and art.