Appearances
CONVENTIONS
Sep

10‑12

2021

Rose City Comic Con

Oregon Convention Center | Portland, OR

Oct

1‑3

2021

MileHiCon

Denver Marriott Tech Center | Denver, CO

Nov

26‑28

2021

San Diego Comic-Con Special Edition

San Diego Convention Center | San Diego, CA

Dec

2‑5

2021

Emerald City Comic Con

Washington State Convention Center | Seattle, WA
I gave my friend Dane Ault of Monkey Minion Press the weirdest idea I had for the Boxes arc, and he took it and ran with it like an electric sheep running from a dreaming android. Thanks so much for this amazing guest strip, Dane!
Before I start posting pictures from San Diego Comic-Con, I'm going to share a really exciting announcement! I've been working on a secret project for a few months now, and it is ready to be revealed!
Espionage Cosmetics will be launching a Kickstarter on September 4th, and one of the nail wraps they'll create with the funding will feature the Little Vampires! I'll let Espionage explain:
Another reason we are SO excited about part 2 of the "Nailed It!" kickstarter is that we get to work with licensed designs from some of our favorite artists, creators, and ip's! This is one of the first sets from a webcomic that we are in love with called "Little Vampires". The creator, Rebecca Hicks, has collaborated with us to create this spooktacular (yeah we went there) nail wrap set! AHHHHH! We cannot wait until September 4th! We have so much awesome planned it will blow your mind.

#ButWaitTheresMOAR #NailedItLvl2 #NailedItEC #NerdManicure #Menicure #NerdMakeup #ForNerdsByNerds #MUHAHAHAHHA #Bleh #LittleVampires #OHSNAP #EspionageCosmetics #AwesomeIsAColor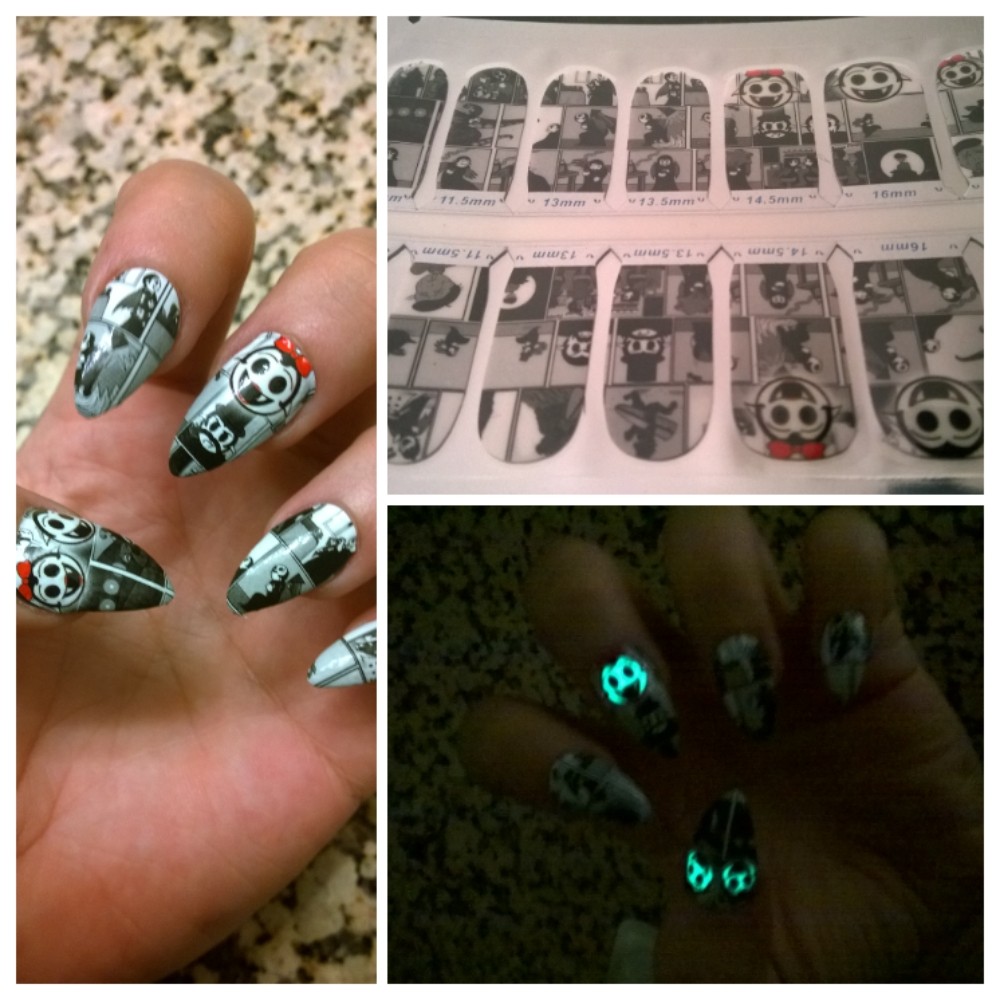 GLOW-IN-THE-DARK YOU GUYS!!!!!!
Like you, I want these wraps NOW! But save your excitement for September, and back the Kickstarter! I'll keep you updated in the blog and on other social media about this awesome project.