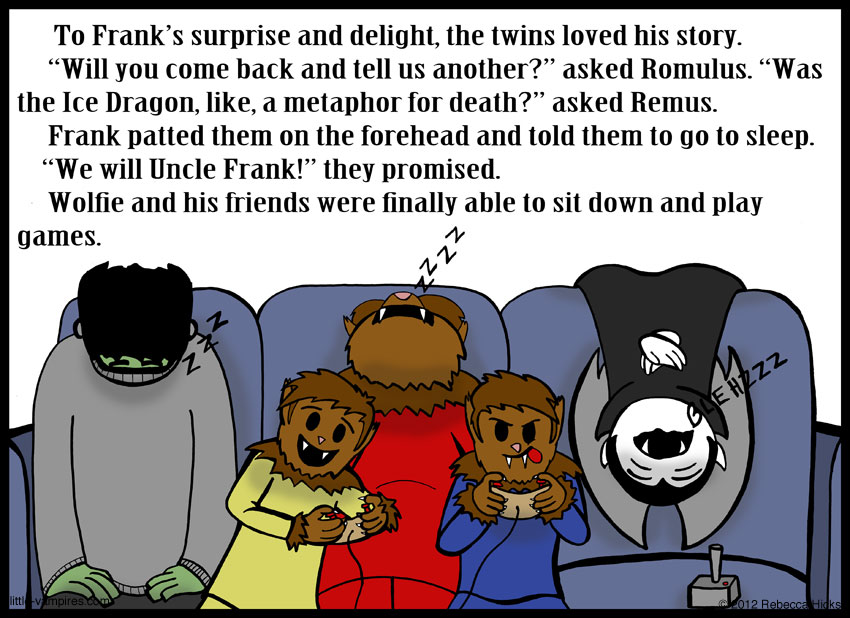 Appearances
CONVENTIONS
Sep

10‑12

2021

Rose City Comic Con

Oregon Convention Center | Portland, OR

Oct

1‑3

2021

MileHiCon

Denver Marriott Tech Center | Denver, CO

Nov

26‑28

2021

San Diego Comic-Con Special Edition

San Diego Convention Center | San Diego, CA

Dec

2‑5

2021

Emerald City Comic Con

Washington State Convention Center | Seattle, WA
That's the end of Bedtime Stories! To reread this story arc, you can go back to the beginning.
I'm going to take a brief hiatus to enjoy the holiday, but also to make some progress on several projects. I'm working on the second Little Vampires comic collection, and also a book about dogs. The Little Vampires will return on Monday, January 7 to wreak havoc in 2013.
So Happy New Year! Thank you for making 2012 our most amazing year yet!
Con Season
The crazy folks over at Blind Ferret Entertainment have started a Kickstarter for their video project, Con Season. This series documents what it's like to exhibit at a convention. We are proud to be backing this series … and not just because we're in it. Really. That has nothing to do with it. 😉
We do have cameos in the series, which is unexpected and appreciated and beyond awesome. You can see us in THIS video showcasing the first episode. WARNING: this video contains mature content and Canadians. You can spot me at 8:45, and James and I having a classic end-of-sitcom laugh with Ryan Sohmer and Alina Pete at 12:52.