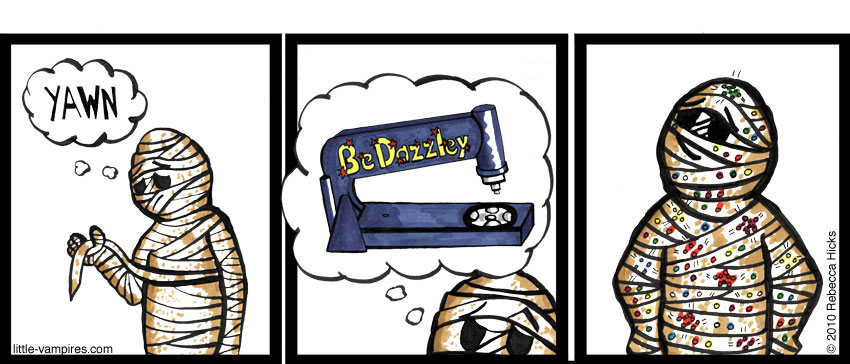 Appearances
CONVENTIONS
Sep

10‑12

2021

Rose City Comic Con

Oregon Convention Center | Portland, OR

Oct

1‑3

2021

MileHiCon

Denver Marriott Tech Center | Denver, CO

Nov

26‑28

2021

San Diego Comic-Con Special Edition

San Diego Convention Center | San Diego, CA

Dec

2‑5

2021

Emerald City Comic Con

Washington State Convention Center | Seattle, WA
Ancient wrappings getting you down because they're yesterday's fashion? Bedazzley your wrap! The Little Monster Bedazzley ensures that you won't go out of style for a good thousand years or so. Nothing says "fashionistamonster" like rhinestones!
I've been playing with the Copic Markers again. I'm also trying to get the hang of using a brush pen for inking. I like to think this practice benefits y'awl because it makes me get better at sketching your requests. Or maybe I just like a good ink manicure.
Thanks to everybody that stopped by the table at this past weekend's Sac-Con! Our next show is the big daddy of comic-cons, San Diego Comic-Con International. I've got tons of ideas for art prints, too many to ever actually get done by show-time. But I'd love to know what you'd like to see me draw. It doesn't have to be a Little Vampires print, though I'd love to do that. What would you like me to draw and color and get printed in time for Comic-Con?