Appearances
CONVENTIONS
Sep

10‑12

2021

Rose City Comic Con

Oregon Convention Center | Portland, OR

Oct

1‑3

2021

MileHiCon

Denver Marriott Tech Center | Denver, CO

Nov

26‑28

2021

San Diego Comic-Con Special Edition

San Diego Convention Center | San Diego, CA

Dec

2‑5

2021

Emerald City Comic Con

Washington State Convention Center | Seattle, WA
Little Vampires are creatures of darkness that always seem to see the bright side of the undead life.
Thank you for showing me nothing but brightness and love during the comic's hiatus! Your support has been a warm sweater of sanity in what has been months of crazy pants. I'm so very happy to be making comics for you again. I missed you. Especially you. You know who you are.
Despite the crazy pants, James has been working on the infrastructure of the website (pardon our dust) and I've been writing a story arc involving Wolfie's family, the Fanglys. I was going to start that story arc today, but it's a difficult one for me to write emotionally. Don't worry, it will be funny. 🙂 But there are parts of it that I want to get just right, and they aren't quite right yet.
What I did start with today's comic is a new drawing process that I hope results in brighter and funnier comic art for you. I had been drawing the pencils for the comic on a tablet using Manga Studio, but I've gone back to drawing the pencils on paper with … a pencil. Art terms can be very practical sometimes.
I'm continuing to ink in Manga Studio and color in Photoshop, but penciling on paper has helped me loosen up the character's gestures. Here's the pencils for the second panel: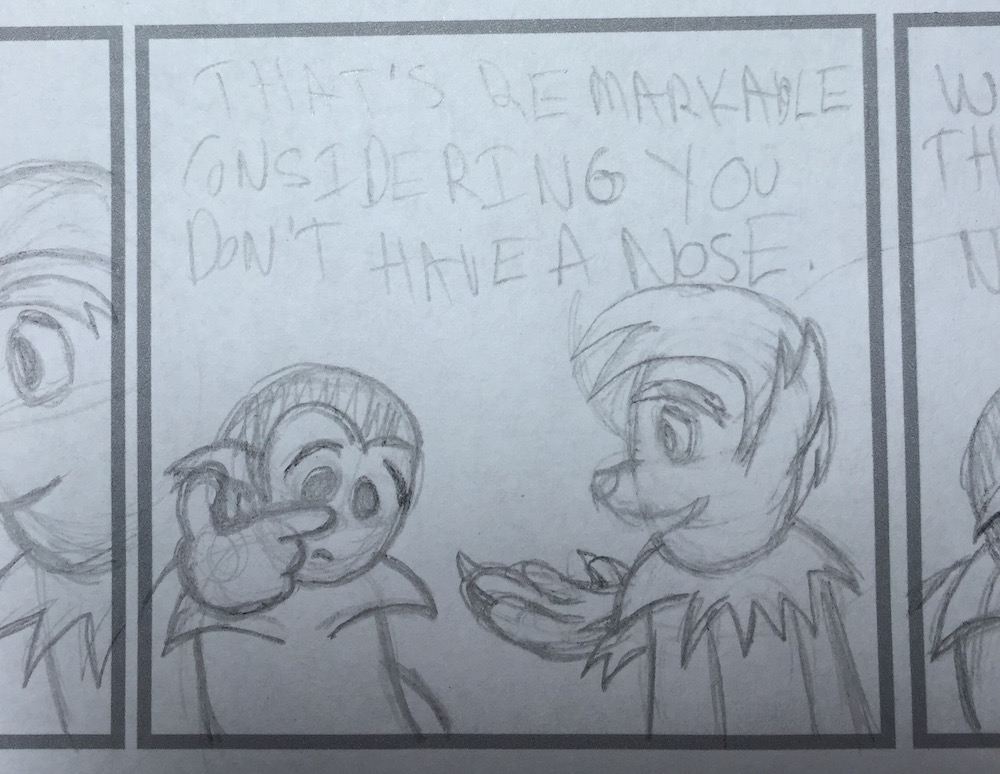 I would not have been so loose and fluid with the Little Vampire's body language if I had drawn him in Manga Studio. There's just something about drawing directly on paper that allows my hand to flow in a more relaxed manner. Thanks to Jennie Breeden for inspiring me to try this method of penciling. I hope you enjoy the results!