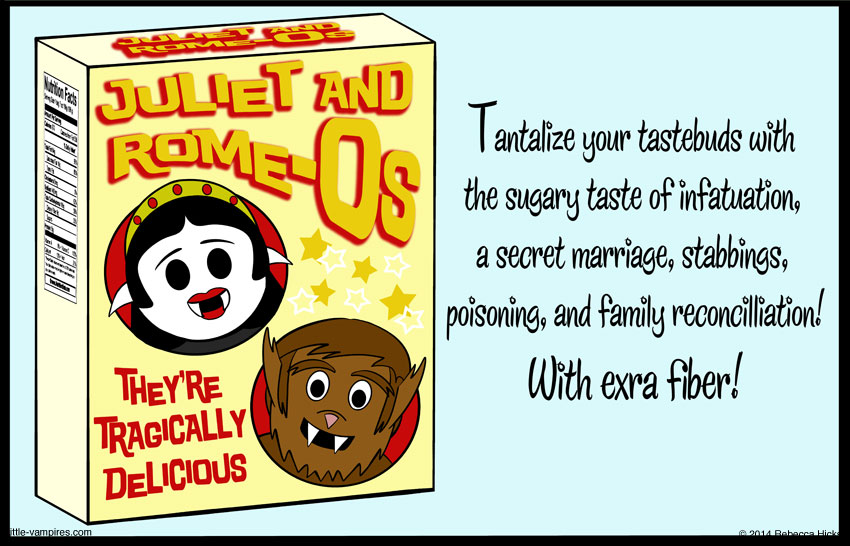 Appearances
CONVENTIONS
Sep

10‑12

2021

Rose City Comic Con

Oregon Convention Center | Portland, OR

Oct

1‑3

2021

MileHiCon

Denver Marriott Tech Center | Denver, CO

Nov

26‑28

2021

San Diego Comic-Con Special Edition

San Diego Convention Center | San Diego, CA

Dec

2‑5

2021

Emerald City Comic Con

Washington State Convention Center | Seattle, WA
Hope you've enjoyed the Shakespeare inspired ads. We'll get back to poor Grigore and his strange dream on Monday. I don't want to prejudice you, but his pride might get a little wounded. What happens next will be Austentacious.
You can port back to the beginning of this story arc and get caught up on all the Shakespeare-shenanigans by clicking HERE.
Our next appearance will be at WonderCon in Anaheim, April 18-20. I'll post details about our booth location next week. I'll also be posting details on how you can order the latest Little Vampire book! Preorders are being mailed, and come with some extra bonus love. 😊
Here are some photos from the Powell County Reading Celebration I attended in March. The theme was "Reading Coast to Coast," and they had this amazing car prop for you to take pictures in, and these awesome road signs on each author's table. That's Crystal Neal, the Powell County Middle School Librarian, posing with me in the car, and the lovely Haley Wheeler goofing around with me at my table. Haley's just one of the many awesome young people in Powell County that I'm honored to know!