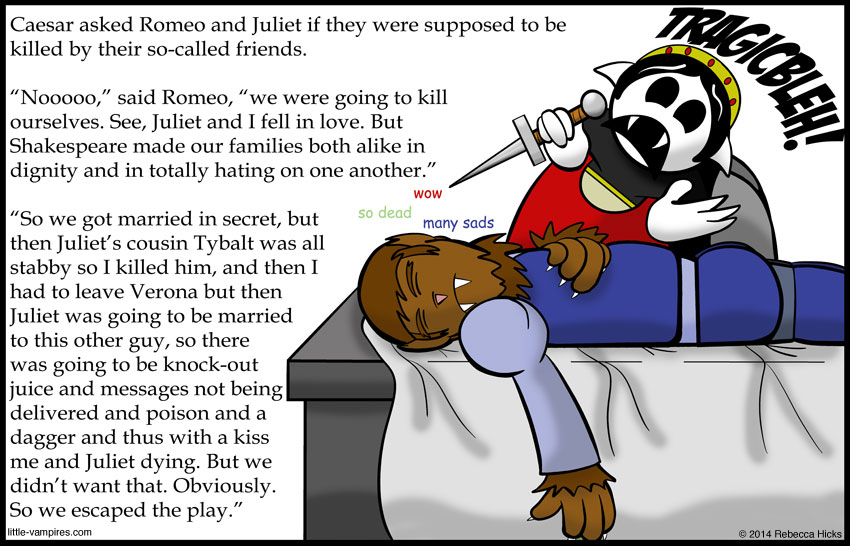 Appearances
CONVENTIONS
Sep

10‑12

2021

Rose City Comic Con

Oregon Convention Center | Portland, OR

Oct

1‑3

2021

MileHiCon

Denver Marriott Tech Center | Denver, CO

Nov

26‑28

2021

San Diego Comic-Con Special Edition

San Diego Convention Center | San Diego, CA

Dec

2‑5

2021

Emerald City Comic Con

Washington State Convention Center | Seattle, WA
What better way to say Happy Valentine's Day then with Romeo and Juliet? Wait …
Monday is President's Day here in the U.S. so there will be no comic posted that day. Tuesday, the 18th, should be a federal holiday since it's my birthday. But, sadly, I have not been recognized by Congress as being worthy of such a day. Sigh.
But hey, birthdays mean presents, so take that Congress! And there's only one present I want from all of you. The Little Vampires Facebook page is, at the time I'm writing this, at 489 likes. The best birthday present ever would be for that page to get over 500 likes. If you haven't already liked the Little Vampires Facebook page, then please do so HERE. You don't even have to gift wrap it!
The Little Vampires comic will return on Wednesday, the 19th.
Thank you for all your positive feedback regarding the cover of the upcoming Little Vampires book Once Upon a Bleh. If there are no catastrophic failures with the printing process (knocking on a forest's worth of wood), the book will be available for sale at our next appearance, the Lexington Comic and Toy Convention in March, and all appearances after that. We will also have the book for sale in our online store for anyone that can't make it to one of our planned conventions.