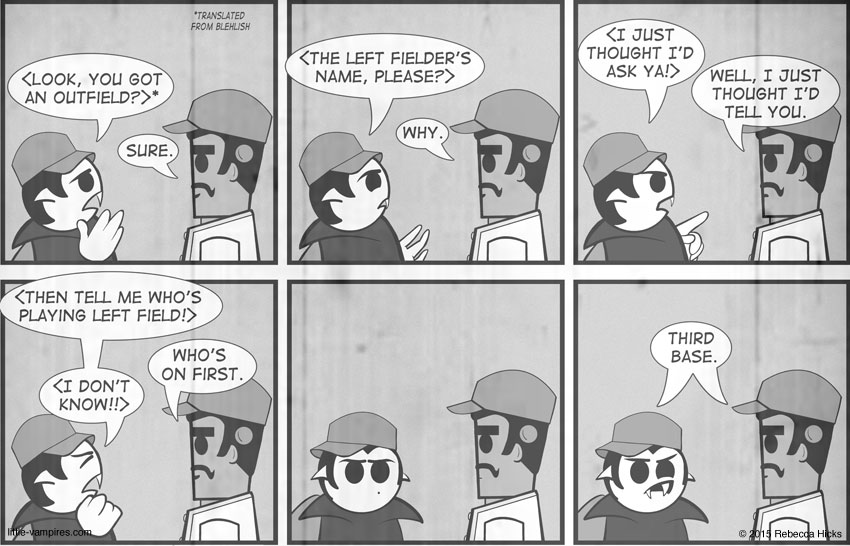 Appearances
CONVENTIONS
Sep

10‑12

2021

Rose City Comic Con

Oregon Convention Center | Portland, OR

Oct

1‑3

2021

MileHiCon

Denver Marriott Tech Center | Denver, CO

Nov

26‑28

2021

San Diego Comic-Con Special Edition

San Diego Convention Center | San Diego, CA

Dec

2‑5

2021

Emerald City Comic Con

Washington State Convention Center | Seattle, WA
The Little Vampires will be enjoying Thanksgiving with their fellow monsters and will return on Monday, November 30. In addition to eating Turkey with Blood Orange Cranberry Sauce, the Little Vampires will be expressing their thanks for you and your support! Wishing you all a wonderful holiday, or, at the very least, a happy weekend!
The Bad Joke Gargoyles are honored to present the classic comedy sketch "Who's on First" as only they (and Corin the Little Vampire and Frank) can. You can start at the beginning HERE.
The Little Vampires will be at Phoenix Fan Fest the first weekend of December! So think up commission requests, Phoenix fans.