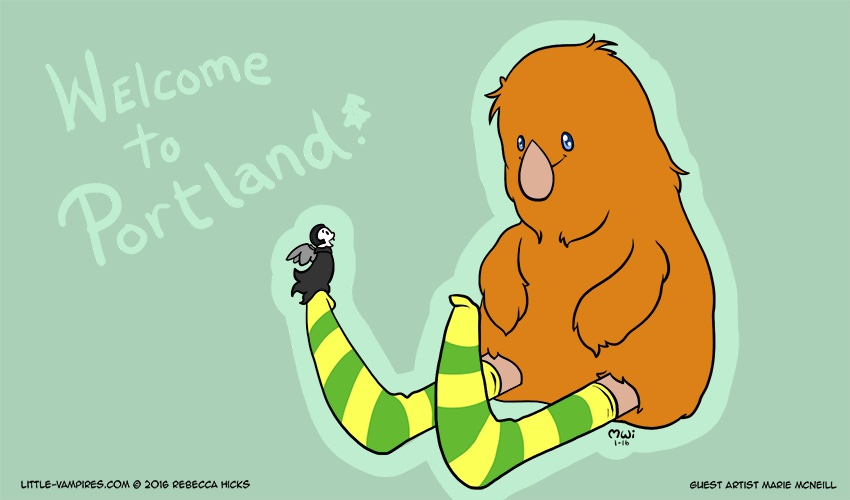 Appearances
CONVENTIONS
Sep

10‑12

2021

Rose City Comic Con

Oregon Convention Center | Portland, OR

Oct

1‑3

2021

MileHiCon

Denver Marriott Tech Center | Denver, CO

Nov

26‑28

2021

San Diego Comic-Con Special Edition

San Diego Convention Center | San Diego, CA

Dec

2‑5

2021

Emerald City Comic Con

Washington State Convention Center | Seattle, WA
Marie McNeill drew today's guest comic, which features her adorable take on Bigfoot welcoming us to Oregon. Looks like Bigfoot is an Oregon Ducks and Portland Timbers fan, judging by his socks.
Marie is one of my favorite artists. I lovelovelove the way she draws the Little Vampires and their friends. And I think she is one of the best illustrators of cartoon animals. Which is why I chose her to illustrate The Metaphysical Ponderings of Dogs. Here's a rough sketch that she did when we were collaborating on the book: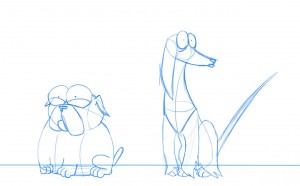 I could study her construction for hours! And her approach to my characters' faces was so perfect, even in the rough sketch phase.
On top of being a great artist, Marie is one of the most badass women I've ever met. She fights battles most of us can't even imagine, yet she still spills over with kindness and love for others. She is truly remarkable.