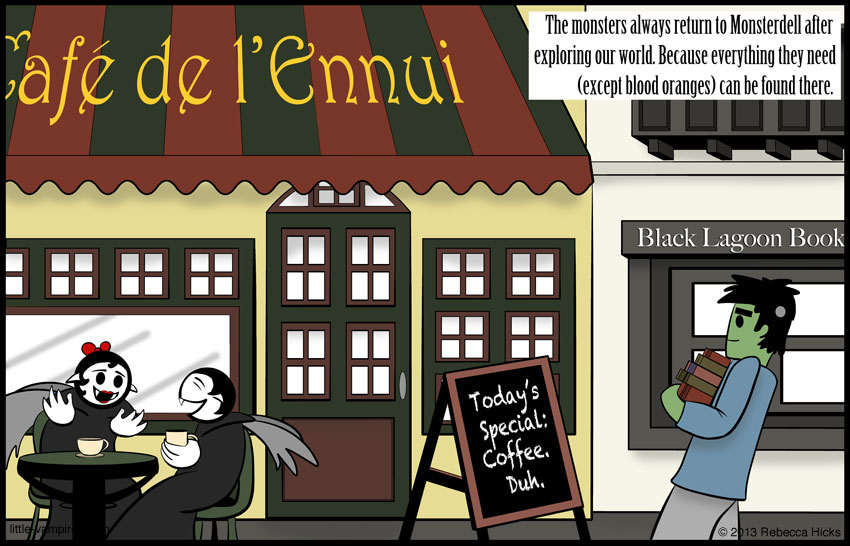 Appearances
CONVENTIONS
Sep

10‑12

2021

Rose City Comic Con

Oregon Convention Center | Portland, OR

Oct

1‑3

2021

MileHiCon

Denver Marriott Tech Center | Denver, CO

Nov

26‑28

2021

San Diego Comic-Con Special Edition

San Diego Convention Center | San Diego, CA

Dec

2‑5

2021

Emerald City Comic Con

Washington State Convention Center | Seattle, WA
Everything the little monsters need can be found in Monsterdell, which makes it the ideal town for them. I've already got tons of ideas regarding what kinds of public and private structures exist there that make it so ideal. But I'd love to hear your ideas! You just might see your favorite shop (monsterized, of course) as we explore Monsterdell.
Happy birthday to my Uncle John! Neat story about my mom's older brother … whenever our family would visit my uncle, I'd run straight to his bookshelf to read his copy of Strange Stories and Amazing Facts. This book played a large part in feeding my love of folklore and the supernatural and general weirdness. It was like the book version of In Search Of and Ripley's Believe It or Not. I loved this book so much that Uncle John gave it to me. It sits on my bookshelf to this day. So have a wonderful birthday Uncle John. And thank you.
Our friend Jennie of The Devil's Panties has a Kickstarter for a chibi Devil Girl plush! Get a friend for your plush Little Vampire or Wolfie HERE. And our friends at Seattle Geekly are running a Kickstarter to bring back their awesome podcast! You can back them HERE.