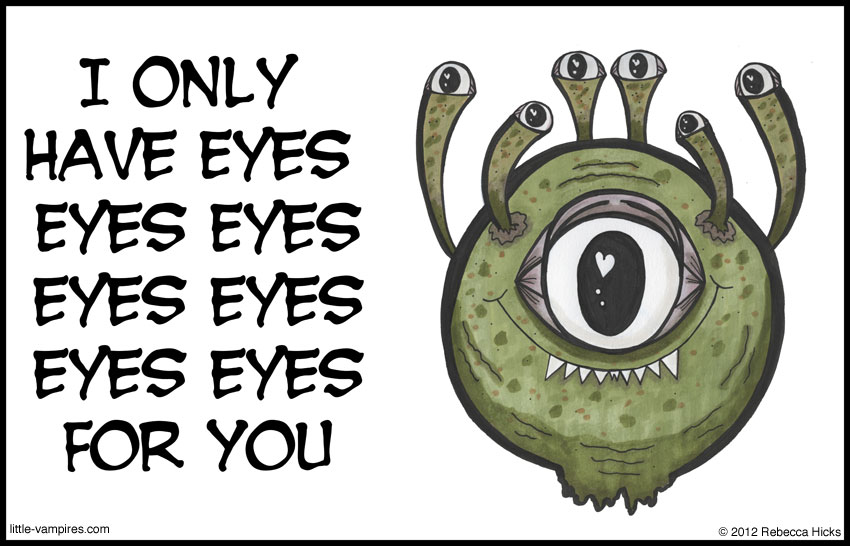 Appearances
CONVENTIONS
Sep

10‑12

2021

Rose City Comic Con

Oregon Convention Center | Portland, OR

Oct

1‑3

2021

MileHiCon

Denver Marriott Tech Center | Denver, CO

Nov

26‑28

2021

San Diego Comic-Con Special Edition

San Diego Convention Center | San Diego, CA

Dec

2‑5

2021

Emerald City Comic Con

Washington State Convention Center | Seattle, WA
Behold(er) my love for all of you.
I'm auctioning off the original art from Friday's comic for charity! My younger brother Thomas is raising money for the St. Baldrick's Foundation, and doing so in a very fun way. I'll let him explain:
I'm going to have my head shaved at a St. Baldrick's Foundation event on March 11, 2012 at 4th Street Live! here in Louisville. With my bald head, I'll stand in solidarity with kids being treated for cancer while raising money for life-saving research. I respectfully ask that you make a donation on my head to help me reach my goal of $750.00, and watch me and others "Shaving the Way to Conquer Kids' Cancer!" This is a fun way to do something very important.
Our father has been battling cancer for several years, so both Thomas and I are passionate about fighting this disease. Help us fight cancer and own a piece of original art!
You can bid on the Valentine Cyclops art HERE on eBay. I will ship the art to the winning bidder for free! Every penny of the winning bid will go to my brother's donation pool. I will be covering the cost of any eBay and shipping fees.
If you don't want to bid on the piece, you can still help my brother by donating in his name at https://www.stbaldricks.org/donate/to/participantid/502919 The profile picture on that page is of my Dad. My brother isn't bald yet. 😉
Share this comic with your friends and family and encourage them to help out. My birthday is coming up, and I can think of no better present than to have my awesome readers (that's you all) help my awesome bro.