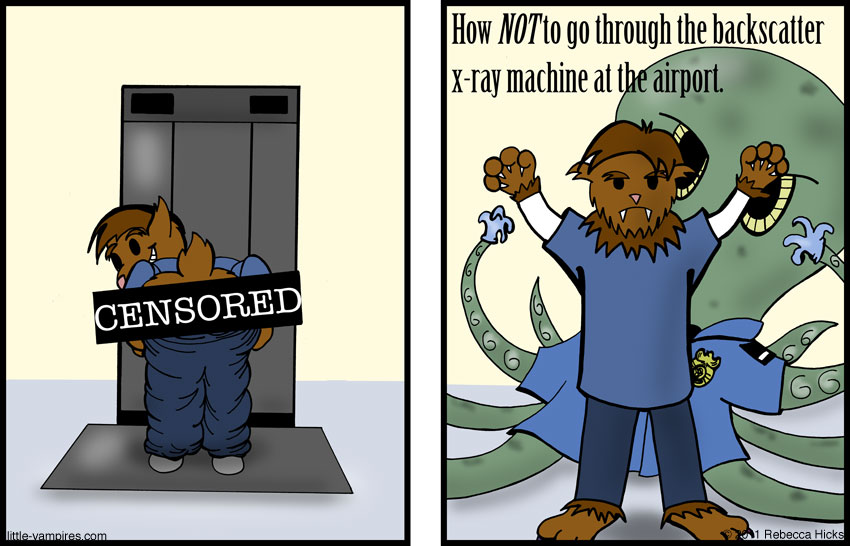 Appearances
CONVENTIONS
Sep

10‑12

2021

Rose City Comic Con

Oregon Convention Center | Portland, OR

Oct

1‑3

2021

MileHiCon

Denver Marriott Tech Center | Denver, CO

Nov

26‑28

2021

San Diego Comic-Con Special Edition

San Diego Convention Center | San Diego, CA

Dec

2‑5

2021

Emerald City Comic Con

Washington State Convention Center | Seattle, WA
UPDATE: The comic will be posted a little later than normal again, sorry! We got back home late from the incredibly fun Bent Con (totally worth the drive and the dealy, IMHO). I should have the comic posted early this afternoon, Pacific Time. Thanks for your patience!
The only thing worse than the pat down was when they called Wolfie's mom.
We will be at Bent Con this weekend. It will be our final convention of 2011, so be sure to come see us if you're in the L.A. area!
Our holiday sale is in full swing! Give the gift of Little Vampire goodness this season. We're offering the following specials in the Lunasea Studios store:
Buy the Little Vampires book and plush toy together for only $15. You can haz savings!
Buy $10 of mischievous mirthy merch and get a free black velvety gift bag. Buy $15 of mischievous mirthy merch and get the gift bag AND this exclusive 4×6 print Little Vampire holiday print.