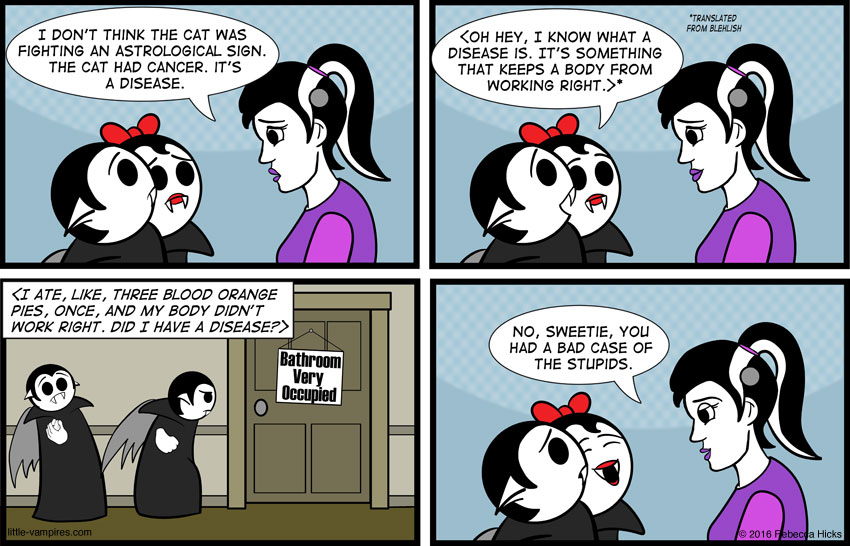 Appearances
CONVENTIONS
Sep

10‑12

2021

Rose City Comic Con

Oregon Convention Center | Portland, OR

Oct

1‑3

2021

MileHiCon

Denver Marriott Tech Center | Denver, CO

Nov

26‑28

2021

San Diego Comic-Con Special Edition

San Diego Convention Center | San Diego, CA

Dec

2‑5

2021

Emerald City Comic Con

Washington State Convention Center | Seattle, WA
A slice of blood orange pie is delicious. Three entire pies is just wrooooong.
I'll be eating a reasonable slice of birthday cake on Thursday! Enjoy a slice of cake to celebrate with me. Not that you need an excuse to enjoy a tasty dessert. 🙂 As a little gift to myself, I'm taking Friday off. The comic will be back on Monday.
And happy birthday to Ashlie Hammond! Great things happen in February, what can I say.
You can go back to the beginning of this story arc HERE.
Talking about death can be difficult, especially if you're trying to talk about it with children. I did some research about how to talk to children about death before writing this story arc. If you ever find yourself in that difficult situation, maybe these sources can help you: