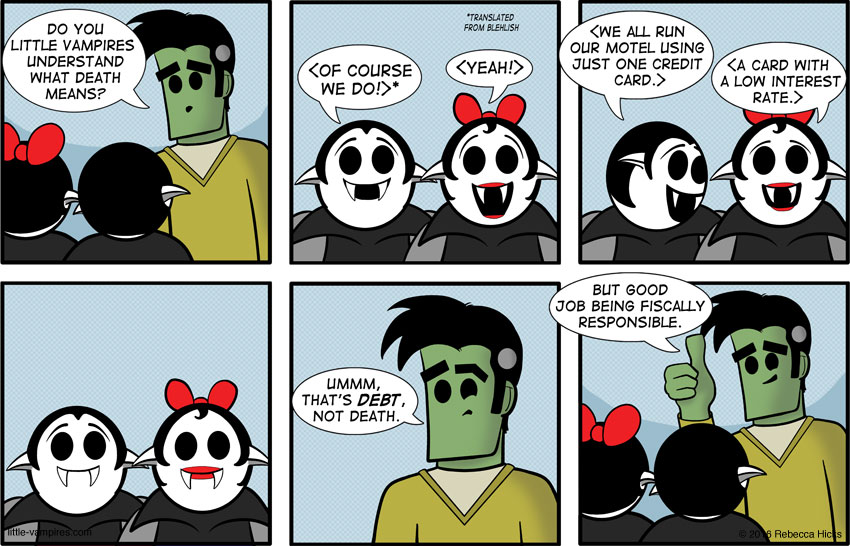 Appearances
CONVENTIONS
Sep

10‑12

2021

Rose City Comic Con

Oregon Convention Center | Portland, OR

Oct

1‑3

2021

MileHiCon

Denver Marriott Tech Center | Denver, CO

Nov

26‑28

2021

San Diego Comic-Con Special Edition

San Diego Convention Center | San Diego, CA

Dec

2‑5

2021

Emerald City Comic Con

Washington State Convention Center | Seattle, WA
The Little Vampires might not always be the smartest monsters in the room, but they do know how to run a successful business. You can read about the Little Vampires Motel by digging into the comic archives HERE.
Today is both a day of joy and sadness for us. It's joyful because it's the birthday of our friend Daniel Davis, the genius artist that is one half of the mighty Steam Crow. Happiest of birthdays, Daniel! May the goblins bring you many cupcakes and sing you many goblin songs.
It's a sad day because it's the anniversary of the death of Matt the Cat, who was the model for The Cat in the first Little Vampires book and in some of the comics. He was a really lovely animal, and a mighty destroyer of feathers on sticks.