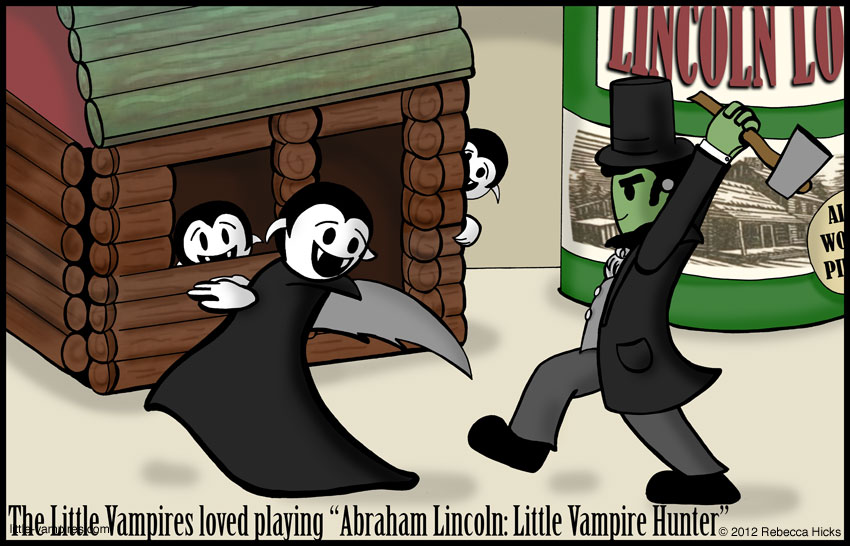 Appearances
CONVENTIONS
Sep

10‑12

2021

Rose City Comic Con

Oregon Convention Center | Portland, OR

Oct

1‑3

2021

MileHiCon

Denver Marriott Tech Center | Denver, CO

Nov

26‑28

2021

San Diego Comic-Con Special Edition

San Diego Convention Center | San Diego, CA

Dec

2‑5

2021

Emerald City Comic Con

Washington State Convention Center | Seattle, WA
Frank always gets to play President Lincoln, on account of him being the tallest. If you haven't heard of Abraham Lincoln: Vampire Hunter, check out the book, or the trailer for the upcoming movie. Some things just sound utterly ridiculous, but can still wind-up being utterly awesome.
It's President's Day weekend here in the States, and it's also my birthday weekend (which should be a national holiday, methinks). The Little Vampires will be taking a brief holiday, and the comic will return on Wednesday, February 22.
Thanks to everyone that bid on the Cyclops art to support my brother's fundraiser for the St. Baldrick's Foundation. Barry Drake, thank you so much for your winning bid, and for contributing directly to my brother's fundraiser. You get a Little Vampire salute:
BLEH BLEH HOORAY!!!
We're getting ready for Con-Dor, San Diego's longest-running sci-fi and fantasy convention. We're excited about exhibiting at this show again! Get your memberships now for the first weekend in March.