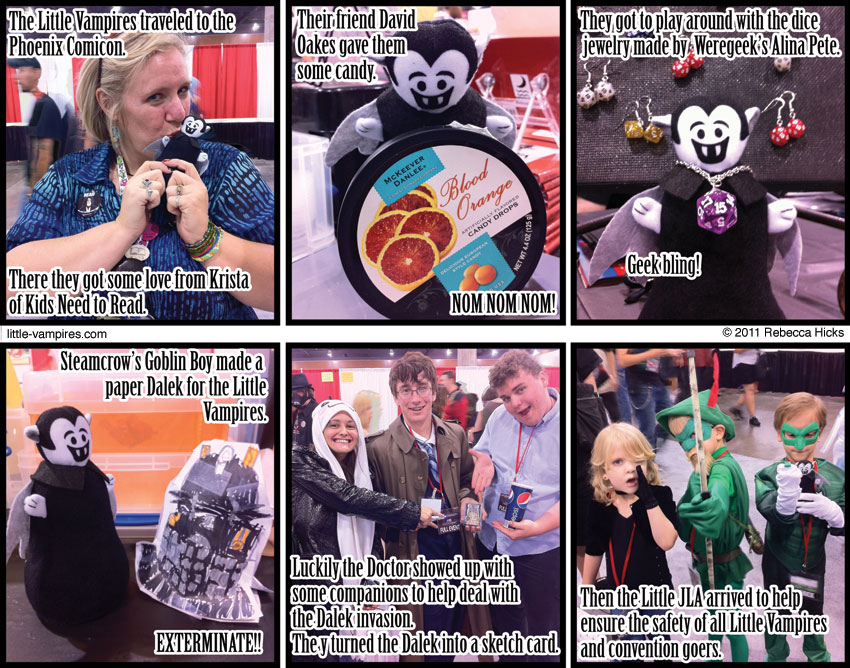 Appearances
CONVENTIONS
Sep

10‑12

2021

Rose City Comic Con

Oregon Convention Center | Portland, OR

Oct

1‑3

2021

MileHiCon

Denver Marriott Tech Center | Denver, CO

Nov

26‑28

2021

San Diego Comic-Con Special Edition

San Diego Convention Center | San Diego, CA

Dec

2‑5

2021

Emerald City Comic Con

Washington State Convention Center | Seattle, WA
We are back from Phoenix Comicon, and wow, words can't express the awesomeness of that show. So I'll let the pictures do the talking.
Thanks to everyone that came by the table to love on the Little Vampires! Thanks to all my fellow Doctor Who fans for giving me so many fun commissions to draw. I now believe that everything looks cooler with a fez on it. Because fezzes are cool.
Special thanks to Krista and the amazing Kids Need to Read group, and to the Arizona Browncoats. Lego-block thanks to David Oakes for the blood orange candy. Extra special peanut butter thanks to Kaid Davis for making me that fabulous paper Dalek. Cheese-on-fire hugs to Steamcrow, Monkey Minion Press, and Beanleaf Press for joining us for a fabulous Greek dinner. And tamale flavored hugs to Alina Pete of Weregeek. The most awesome conventions are made even better when we share a booth with the queen of gamer geek bling!