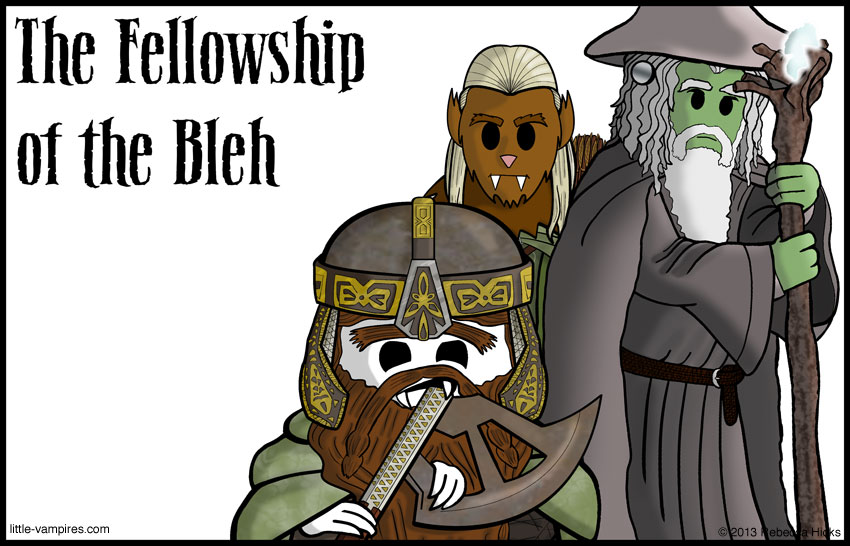 Appearances
CONVENTIONS
Sep

10‑12

2021

Rose City Comic Con

Oregon Convention Center | Portland, OR

Oct

1‑3

2021

MileHiCon

Denver Marriott Tech Center | Denver, CO

Nov

26‑28

2021

San Diego Comic-Con Special Edition

San Diego Convention Center | San Diego, CA

Dec

2‑5

2021

Emerald City Comic Con

Washington State Convention Center | Seattle, WA
I will draw anything for you. But I won't draw a dwarf helmet ever again. So many details. So many lines. The horror. 🙂
I've unveiled more of the cover art for the second Little Vampires comic collection, The Fellowship of the Bleh. There are only two characters left; Aragorn and Boromir. Can you guess which Little Vampires characters will be cosplaying these Men of the West?
We're beginning the 2013 season the first weekend of March at Emerald City Comicon in Seattle, Washington. We'll be sharing booth 705 with our good friends from Weregeek. The dealer's floor has more than doubled in size, so use the map to find us.
If you want some awesome nerd-etainment after the dealer's floor closes, check out our friends The Doubleclicks in concert at the Hard Rock on Friday, March 1. You can get tickets HERE.