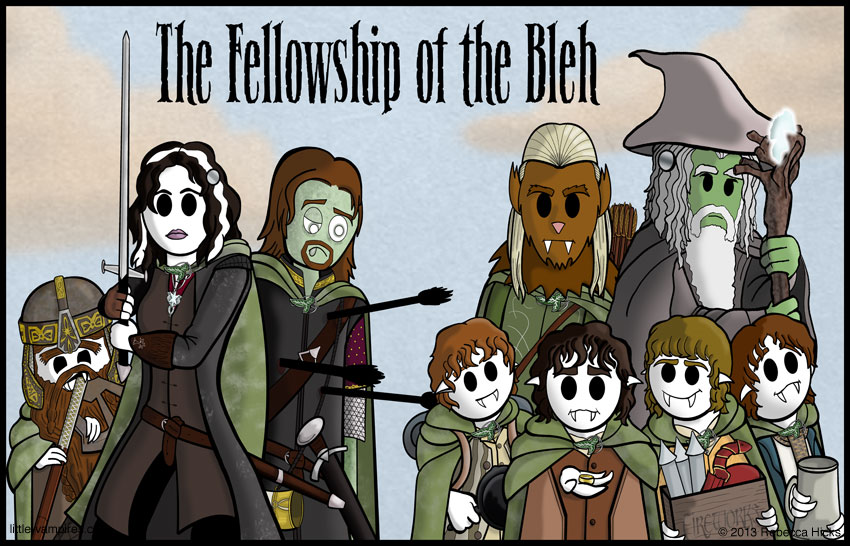 Appearances
CONVENTIONS
Sep

10‑12

2021

Rose City Comic Con

Oregon Convention Center | Portland, OR

Oct

1‑3

2021

MileHiCon

Denver Marriott Tech Center | Denver, CO

Nov

26‑28

2021

San Diego Comic-Con Special Edition

San Diego Convention Center | San Diego, CA

Dec

2‑5

2021

Emerald City Comic Con

Washington State Convention Center | Seattle, WA
The entire Fellowship of the Bleh! This is how they'll look on the back and front cover of the book.
We will (hopefully) have the proof copy of the book at Emerald City Comicon in Seattle, Washington this weekend. We'll be taking preorders at the show, and will ship the book to you for FREE when they arrive at Lunasea Studios. I will also have prints (5×7 and 8×10) of the Fellowship for sale.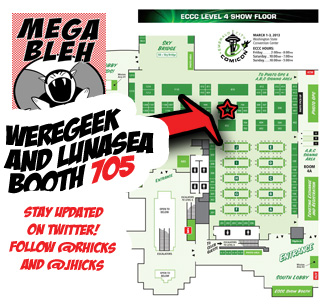 FIGHT CANCER! WIN ART!
My younger brother Thomas is raising money for the St. Baldrick's Foundation, and I'm auctioning off some original art to help support his fundraising efforts. Since Thomas is shaving off his hair for charity, I thought I'd honor his sacrifice by drawing the hairiest of the hairiest, Cousin It. You can go bid on this Addams Family piece HERE. The auction ends on March 5, so get your bids in now!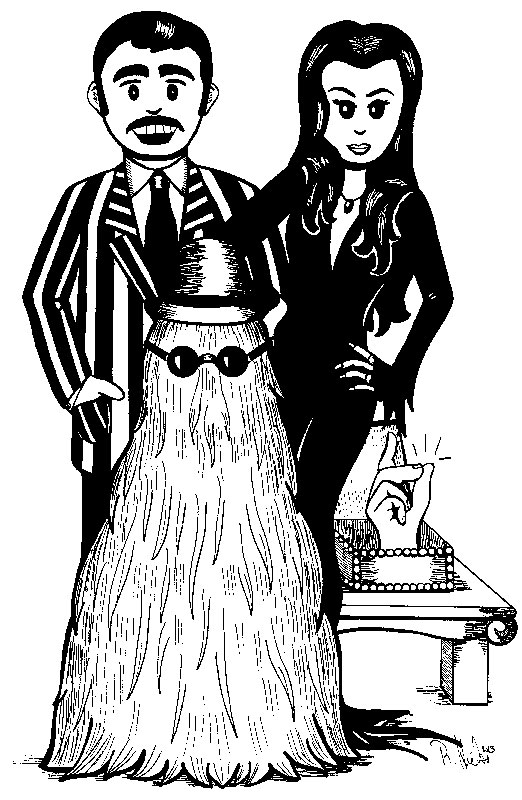 You don't have to bid on the art to support this wonderful cause. Here's my brother giving details regarding how you can help:
I'm going to have my head shaved at a St. Baldrick's Foundation event on March 10, 2013 at 4th Street Live! here in Louisville. With my bald head, I'll stand in solidarity with kids being treated for cancer while raising money for life-saving research. I respectfully ask that you make a donation on my head to help me reach my goal of $1,500.00, and watch me and others "Shaving the Way to Conquer Kids' Cancer!" This is a fun way to do something very important.

This year's event is especially poignant as we're honoring a beautiful little girl named Eleanor Massa-McKinley. Eleanor is the daughter of my friend and co-worker Ryan. During her first birthday's physical her doctors diagnosed her with a rare form of Leukemia (AML-M7). Fortunately, after treatment at Kosair Children's Hospital here in Louisville, Eleanor is in remission. Last time I saw her she was looking happy and healthy with a nice crop of peach fuzz growing on her head! Her parents Ryan and Lilly are very happy to have her home, as are we all. By shaving my head I stand in solidarity with Eleanor and all the other kids out there suffering from this terrible disease. Your donations will help Eleanor continue to fight and hopefully prevent future kids from having to suffer the same affliction. Eleanor's second birthday is coming up in June and we want it to be the first of many to follow while in remission.

There are a few options if you decide to give. By no means is it a contest, but a good friend and I have joined up to pool our donations. You can donate on my head or to the team.

The easiest way to give is online:

https://www.stbaldricks.org/participants/TomMichaelFarmer

Note: Donating in my name will also reflect on the team page

You can read about other ways to donate on the website.

About St. Baldrick's:

St. Baldrick's funds more in grants for childhood cancer research than any other organization except the U.S. government. In the past year, the Foundation has funded more than $21 million in new grants — all because over 45,000 people shaved their heads! You can count on this donation being used responsibly. To see all the research being funded — by disease type, location and more — visit www.StBaldricks.org and click on "Where the Money Goes," then "View Grants."