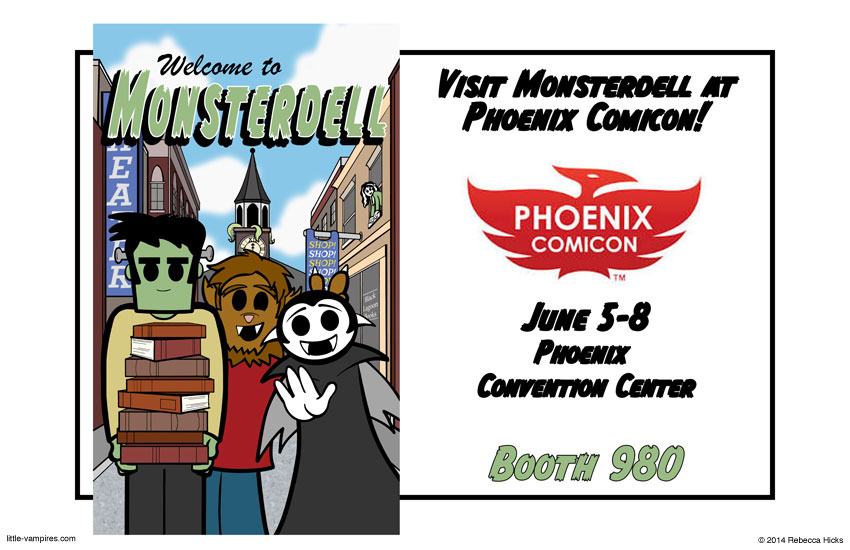 Appearances
CONVENTIONS
Sep

10‑12

2021

Rose City Comic Con

Oregon Convention Center | Portland, OR

Oct

1‑3

2021

MileHiCon

Denver Marriott Tech Center | Denver, CO

Nov

26‑28

2021

San Diego Comic-Con Special Edition

San Diego Convention Center | San Diego, CA

Dec

2‑5

2021

Emerald City Comic Con

Washington State Convention Center | Seattle, WA
This is the art from our new booth backdrop. This banner is 6 feet wide and 10 feet tall. When I stand next to it, Frank is as tall as I am! Or maybe I'm as small as Frank is. It's all relative.
Convention preparation, merchandise creation, and panel preparation had to take priority over the comic, I'm sorry to say. So I was unable to create a buffer to continue the Boxes storyline. I'll be posting sketches from the road instead, something I've never done before! Expect random craziness that I hope makes you smile as much as the fully-rendered comics do.
We can be found at booth 980 at the at the always-amazing Phoenix Comicon this weekend. Then we'll be driving to Denver with the mighty Steam Crow for Denver Comic Con June 13-15. We'll be exhibiting with our friend Alina Pete, creator of Weregeek, at booth 1038. Then we drive back to Phoenix, then back to San Diego. Phew!
For those of you attending these conventions, the awesome Jason of Fez-o-rama made these handy maps to help you find your way to us and other indy creators.
If you're going to PHXCC, please join me as I teach my class today! I'll be teaching Drawing Cartoon Emotions in the South Art Room Events Area on June 6th from 4:30 to 5:30 p.m.