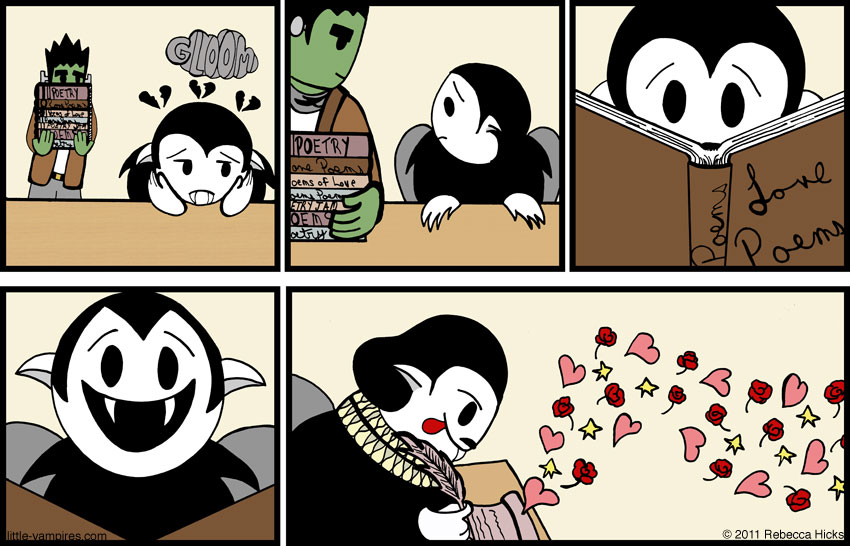 Appearances
CONVENTIONS
Sep

10‑12

2021

Rose City Comic Con

Oregon Convention Center | Portland, OR

Oct

1‑3

2021

MileHiCon

Denver Marriott Tech Center | Denver, CO

Nov

26‑28

2021

San Diego Comic-Con Special Edition

San Diego Convention Center | San Diego, CA

Dec

2‑5

2021

Emerald City Comic Con

Washington State Convention Center | Seattle, WA
On Friday, you will see Little Vampire love poetry. You have been warned.
We had a great time at Strip! The Dallas Webcomics Expo Thanks to everybody that came by the table, and special thanks to the amazing guys who managed to run a fun show despite the 100 plus temperatures. Stay air conditioned Jonathan, Michael, and Thomas!
I had the honor of being on a panel with my bud Samantha Wikan, webcomic "newb" Elia, Silkspinner, and Halo Seraphim. I also arted at my first Live Art Show, and had the pleasure of working beside and talk artin' with Chris Jeffery and Jamel Jones. Awesome fans Ms. Darkstar and MrPOSSLQ joined us and, for some unknown reason, found our blathering entertaining. Must have been the heat that made them nutsy.
The Little Vampires want to give their own special thank you to Ms. Darkstar for her gift of blood orange mimosas. I didn't get a sip of the stuff, 'cause the Little Vampires didn't leave a drop.