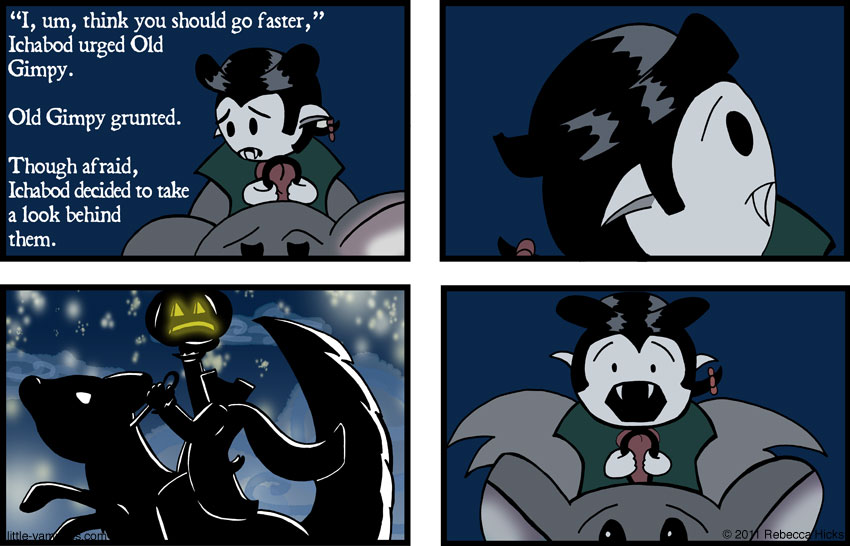 Appearances
CONVENTIONS
Sep

10‑12

2021

Rose City Comic Con

Oregon Convention Center | Portland, OR

Oct

1‑3

2021

MileHiCon

Denver Marriott Tech Center | Denver, CO

Nov

26‑28

2021

San Diego Comic-Con Special Edition

San Diego Convention Center | San Diego, CA

Dec

2‑5

2021

Emerald City Comic Con

Washington State Convention Center | Seattle, WA
Bonus comic week! It's the week before Halloween, and I'm celebrating by posting a bonus comic this week. The story of the Little Headless Squirrelman will continue today, Thursday, and Friday of this week.
As a thank you to all Little Vampire fans, I've created a Halloween Jack-o'-lantern stencil that you are free to use. Download and print out the PDF and carve away! If you make a Little Vampire-o'-lantern, please send pictures.
Be sure to trick-or-treat at Artist Alley table 1003 at Long Beach Comic-Con this weekend! I'll be handing out treats on Sunday, the 30th. Better stop by early. I cannot promise that I won't eat all the candy before noon.