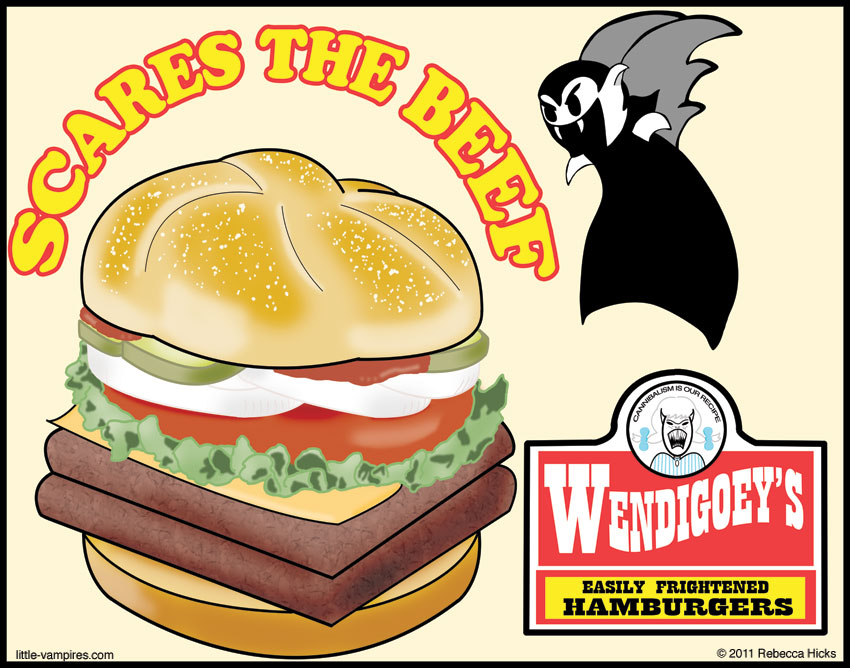 Appearances
CONVENTIONS
Sep

10‑12

2021

Rose City Comic Con

Oregon Convention Center | Portland, OR

Oct

1‑3

2021

MileHiCon

Denver Marriott Tech Center | Denver, CO

Nov

26‑28

2021

San Diego Comic-Con Special Edition

San Diego Convention Center | San Diego, CA

Dec

2‑5

2021

Emerald City Comic Con

Washington State Convention Center | Seattle, WA
Wendigoey's is the Little Vampires favorite fast food joint. This is despite the controversy surrounding the content of the restaurant's burgers. A good advertising campaign aimed directly at the Little Vampire love of scaring stuff? That will beat investigative reporting regarding the questionable source of Wendigoey's meat any day.
Here's the ad that inspired today's strip.
Happy Valentine's Day to all the Little Vampire and Wolfie and Frank lovers out there! The Little Vampires would send you all blood orange chocolates in a heart shaped box, but they ate them all. Then Wolfie ate the box.