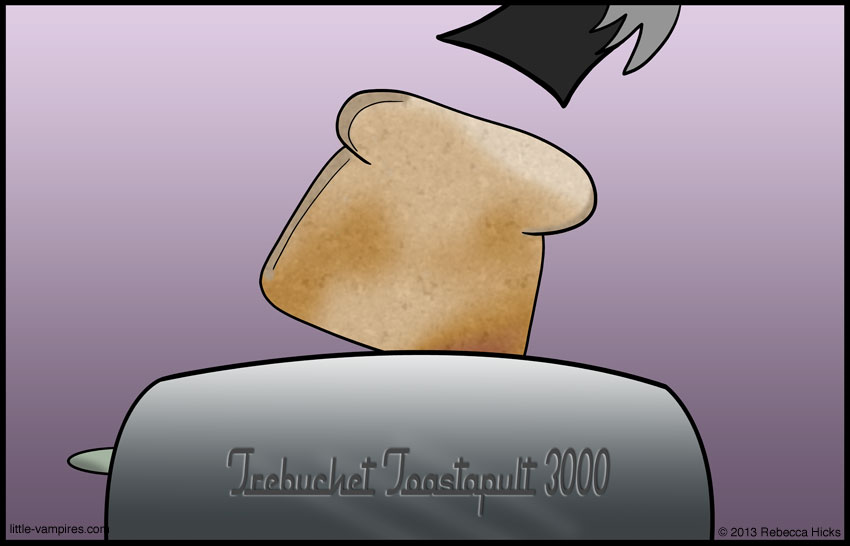 Appearances
CONVENTIONS
Sep

10‑12

2021

Rose City Comic Con

Oregon Convention Center | Portland, OR

Oct

1‑3

2021

MileHiCon

Denver Marriott Tech Center | Denver, CO

Nov

26‑28

2021

San Diego Comic-Con Special Edition

San Diego Convention Center | San Diego, CA

Dec

2‑5

2021

Emerald City Comic Con

Washington State Convention Center | Seattle, WA
It's no secret that toast also loves to fly.
There will be no comic on Monday, March 18th, but the Little Vampires will be returning on Wednesday, March 20. This month is a little extra crazier than usual, what with back-to-back conventions involving air travel, and that means less time at the drawing board. Thanks for your understanding! And thank you to everyone in Kentucky for their love and hospitality. I'll be posting details about the trip on the comic blog on Wednesday.
Happy St. Patrick's Day!
Kentucky Appearances
We are in Kentucky visiting family and friends, but will also be appearing at the Powell County Reading Celebration on March 16, and at the Lexington Comic & Toy Convention on March 16 and 17. The Little Vampires would love to see you at either (or both) of these events!